Workers treated as cogs in a system that only sees profit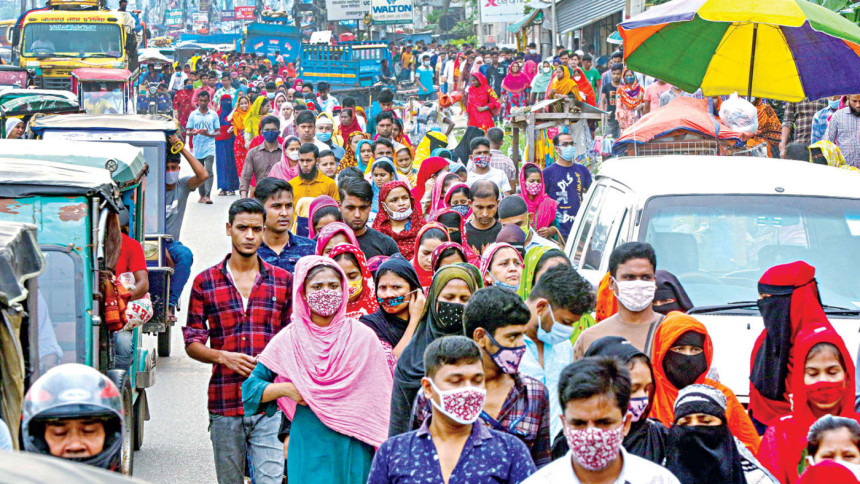 "Thousands of garment workers yesterday returned to work in industrial belts in Dhaka and elsewhere amid the nationwide shutdown, raising fears of a rapid spread of the novel coronavirus…"—this was the first sentence in a report in The Daily Star that was printed, not today, yesterday or the day before, but on April 30, 2020. This mass movement was sparked by the decision to reopen apparel factories on a limited scale, coupled with a statement from the home minister on how no one would be allowed to enter the capital from outside for work. The relevant authorities were roundly condemned for creating panic amongst workers, who flouted all social distancing protocols and returned to the capital in crowds, despite the high costs of travel (public transport was suspended at the time) and risks to their health. On April 30, 2020, the positivity rate in Bangladesh was 11 percent (for context, yesterday, it was 29.91 percent).
Still, the events referred to here were in the early days of the pandemic, when excuses could perhaps be made for the authorities being under-prepared. At the time, we didn't know that 3.57 lakh jobs would be wiped out in the RMG industry during the pandemic. We didn't know that 72.4 percent of furloughed workers would not get their due salary and 80.4 percent of laid-off workers would not get their severance pay (as data from the Centre for Global Workers' Rights now shows us).
We didn't know that RMG workers would suffer a 35 percent pay cut during lockdown periods, despite factory owners receiving a Tk 8,000 crore government stimulus package to pay salaries during the pandemic, and that a study by Transparency International Bangladesh would reveal that the stimulus didn't actually reach 42 percent of RMG workers. And we definitely didn't know that, despite RMG factories being allowed to operate during lockdowns (since global markets began opening up after widespread vaccination programmes), RMG workers would still have to take to the streets to demand salary arrears in the second quarter of 2021, all the while at risk of falling into pandemic-induced debt in their struggle to stay afloat.
However, now that we are armed with all of this information on the pandemic's catastrophic impact on workers, not just in the RMG sector but across all Bangladeshi industries, what exactly have we learnt from it? If the events of the past few days are anything to go by—the answer might be, absolutely nothing at all. Despite being well-aware of just how difficult it is to travel back to Dhaka during lockdowns, despite witnessing time and again the mad Eid rush and how dangerous such crowds can be in terms of Covid-19 transmission, and despite knowing that the precariousness of their situations means that workers will have no choice but to rush back to their workplaces when asked—it truly beggars belief that they were not given more than 24 hours' notice to travel back during a nationwide "strict" lockdown. That too at a time when Covid-19 cases have gone up by 58 percent in a week and hospitals across the country are struggling to deal with this crisis.
On July 27, the home minister told reporters that "Although the factory owners pleaded for the reopening, we can't accept their request." Yet on July 30, a government circular was issued saying export industries, including garment factories, will be out of the ongoing 14-day lockdown's purview from August 1. While we acknowledge that the "lives vs livelihoods" dilemma has been a constant thorn for the government during the pandemic, and difficult decisions have had to be taken, the fact that the workers themselves were kept in the dark during these discussions shows just how little thought is given to them by their employers and the authorities.
Although it was belatedly announced that public transport would be opened up so workers could return, it is astounding that it did not occur to anyone to plan for this in advance. By then, thousands of workers had already flocked to ferry ghats, and in the absence of public transport, they were forced to ride rickshaw vans, trawlers, goods-laden pickup trucks and even walk on highways with their family members. In interviews carried by different media outlets, many spoke of the high costs of making these journeys. And in almost every single interview, they gave the same reason for going through all this hardship—what will happen to our jobs if we don't go?
It is time for us to redirect this question, away from the workers and onto their employers. What will happen to their jobs if they miss a day's work or two? Will they be made redundant? Will that day's wages be deducted from their pay? Or will it be counted as one of their 10 days of casual leave, or 11 days of festival holidays? (By the way, if RMG workers are entitled to 11 days of festival holidays, why did workers have to demonstrate to get time off for Eid in May?).
This week, the WTO released figures showing Bangladesh earned USD 28 billion from apparel shipments in 2020. While this is a decline from past figures (as is expected due to the pandemic), it still begs the question—in a 28-billion-dollar industry, why is the work still so precarious? Why are RMG workers (who, along with migrant workers, are key building blocks of our economy) expected to risk Covid-19 infections and spend their much-needed savings based on what are clearly unplanned, last-minute decisions?
The pandemic has put a spotlight on the very real issue of an unequal distribution of power within the global supply chain, and buyers have faced a lot of criticism for trying to get out of contracts and hang their suppliers in countries like Bangladesh out to dry. As legitimate as these issues are, we cannot shy away from the fact that workers, in most industries in Bangladesh, are also the victims of unequal distributions of power in relation to their employers (i.e. the suppliers).
Every few months or so, the most inhumane expressions of this inequality dominate our headlines—like how little value the owners of Hashem factory attached to the lives of 52 workers who died in the blaze in Narayanganj last month, or the five workers who were killed by police in April for the simple act of demonstrating for payment of arrears and an improvement of their appalling living conditions at an under-construction coal-fired power plant in Banshkhali. While these are the worst case scenarios, they are part of a wider problem—a culture of work that devalues labour, reducing workers to parts in a factory rather than human beings deserving of security and dignity. It is this same culture that prevents employers and relevant authorities from showing the least concern for the hardships workers may face during the pandemic. At a time when they are especially vulnerable, could we not do better?
Shuprova Tasneem is a member of the editorial team at The Daily Star.
Her Twitter handle is @shuprovatasneem.