Why is the dream for fair wage and work safety still so distant?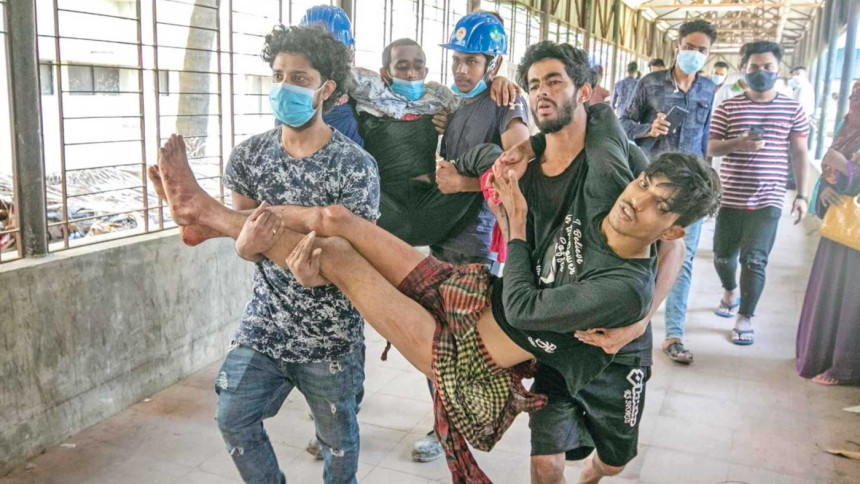 What are the risks associated with workers' protests in modern-day Bangladesh? When workers take to the streets, what sort of treatment should they expect to receive? And what does that treatment tell us about the accountability of law enforcing agencies, the outsized influence exercised by corporate entities in our country, and the situation of workers faced with such asymmetrical systems of power?
Earlier this month, this daily highlighted the story of RMG worker Kanchon Mia, for whom the cost of protesting turned out to be his health, his income and his quality of life. On May 10 this year, while protesting for Eid holidays, he was shot with pellet guns, resulting in life-threatening injuries that may have disabled him for good. The surgeons who treated him at Dhaka Medical College Hospital (DMCH) removed as many as 101 pellets from his intestines. Five months later, Kanchon is still physically incapacitated—he requires gut reconstruction surgery but is too malnourished to be operated on.
Yet Kanchon was, perhaps, "luckier" than the workers of SS Power I Plant in Banshkhali, Chattogram—six of whom were killed after police fired shots into their protests on April 17. At least 21 workers were injured. What was their crime? Demands for payment of arrears, one-hour breaks for iftaar, a half day off on Fridays, two Eid bonuses and sanitary living arrangements.
Around a month after the Banshkhali incident, a police probe found that "instigation by outsiders, irregular payment of salaries and sanitation problems fuelled labour unrest in the SS Power I Plant in Chattogram's Banshkhali upazila," according to a report published by this daily on May 22. The slightest hint of police culpability and the possible use of disproportionate force was absent in the report—it was as if the shots had been fired by the workers themselves. Later, one Engineer Shahnewaz Chowdhury was arrested under the Digital Security Act for posting about the corruption and irregularities that marred the coal-fired power project. It would appear that criticising corporate negligence and irresponsibility is a far more serious act than firing 332 shots and four teargas shells at protesting workers.
While the grievous injury of Kanchon and the killings of the workers of Banshkhali Power Plant were two of the most serious cases of police crackdowns on workers' protests, they are definitely not the only such instances to have occurred in recent times. On August 5 this year, police fired rubber bullets and teargas shells to disperse workers of a garment factory who were protesting the termination of 10 of their colleagues. On July 17, RMG workers who had been protesting for over 10 days in Gazipur to demand outstanding payments were dispersed after police fired 20 rounds of tear gas shells and 16 rounds of sound grenades. On June 13, many were injured as police violently dispersed workers who were demanding their wages at a factory in Dhaka EPZ. On March 16, at least nine people, including a policeman, were injured in clashes with protesting RMG workers in Tejgaon. The list goes on.
Although most of the recent workers' protests have been concentrated in the RMG sector because of the massive repercussions of the global pandemic on the industry, there are many such instances of workers being dispersed forcefully or having tear gas or shells lobbed at them by the police even before the pandemic-induced dip in the economy—such as during the jute mill workers' protests for their arrears and the regularisation of temporary workers (amongst other demands) in 2019.
That is not to say that in all these cases, the workers were protesting peacefully. There have, of course, been cases of workers blocking roads, burning tyres or throwing bricks at police. The unfortunate truth is that the status quo is automatically assumed to be that of a face-off between law enforcement and protestors—where the responsibility of keeping the peace comes with the assumption that peace can only be kept by removing the protestors, as opposed to allowing them to express their legitimate demands.
A common accusation against protesting workers is that they are creating "unrest" in the area. But do these actions of "unrest" warrant the use of pellet guns, rubber bullets, tear gas and even live ammunition (as was used in Banshkhali)—that too aimed directly at workers, as opposed to near them or above their heads? If law enforcement agencies have a duty to "keep the peace," why is it also not their duty to ensure that workers do not get ignored, and their needs trampled on, by the employers who are profiting from their labour? Instead of going in with batons ready and helmets on, is there not even a possibility of taking on a more mediatory role? Have law enforcers been influenced to pick a side, even before they could figure out what the battle was all about?
What is really notable in almost all of these cases is how far the workers have to go for the simplest of demands. More often than not, the demands are not even for fair wages—but for holidays, weekends, decent work hours, or the payment of wages that they are already owed. Ha-Meem Group, which owns the factory where Kanchon Mia worked, is one of the largest clothing manufacturers in the country, with clients like Gap and H&M. Yet, according to a statement from the Bangladesh Garments Shramik Samhat, they only offered their workers a three-day Eid holiday, after not giving them a single day off for 1.5 months in order to meet pre-Eid production goals. These workers are part of an industry that earned the country USD 28 billion from apparel exports in 2020. 
In a similar vein, the Banshkhali power plant, a joint venture involving the corporate heavyweight S Alam Group, decided to deduct wages from workers who took a break from work during sehri and iftaar times in Ramadan, and crammed them into crowded living spaces with highly unsanitary facilities that often had no running water. These are the working conditions for a project that, according to the Global Energy Monitor, has an estimated cost of USD 2.4 billion (and, on a side note, will emit an estimated 192,200 million tonnes of carbon dioxide over its operating lifetime).
So where exactly is the money going? While S Alam Group has washed its hands of the affair by blaming contractors for the workers' plight and offering a paltry Tk 5 lakh to the families of each deceased worker—the labour laws of the country require the payment of only Tk 2 lakh for a worker killed in an "industrial accident" (which this was not)—we are yet to receive any explanation of why these workers had to die for something as simple as time off to eat a meal.
Over the last two decades, Bangladesh's impressive development trajectory has earned it accolades from across the world. Our hugely successful RMG export industry and billion-dollar development projects are considered by many to be the symbol of a country that is finally ready to shed its underdog identity and take its rightful place among the leaders of fast-developing Asian countries. But can we truly take pride in this meteoric rise, when the fruits of it are distributed so unevenly in our society?
The pandemic has dragged the stark inequalities in our societies under a light that is now far too bright to ignore. Across the world, we saw the most marginalised workers struggling to make ends meet during this period, living hand-to-mouth while foregoing crucial out-of-pocket expenses like spending on healthcare and education. It has exposed how little we value the labour that keeps our economy running, and how much undue influence we grant to the corporate entities that decide the price of their sweat and toil.
In a country that experienced positive GDP growth rates even during the pandemic, why should fair incomes, workplace security, decent housing, access to healthcare and social protections still be a distant dream for so many of its workers?
Shuprova Tasneem is a member of the editorial team at The Daily Star.
Her Twitter handle is @shuprovatasneem