What are India's plans regarding Afghanistan?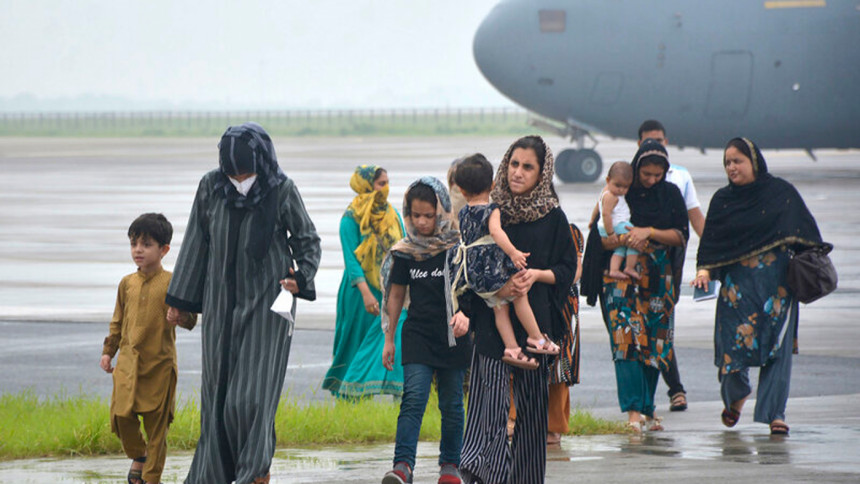 When Indian External Affairs Minister S Jaishankar briefed floor leaders of 31 parties in Parliament on August 26 on the developments in Afghanistan, he faced some searching questions about New Delhi's policy, actions and future strategy towards Afghanistan, post-Taliban takeover.
The meeting was aimed at generating a national consensus on a vital foreign policy and national security issue for India. By all accounts, the government and opposition parties have been able to set aside their recent face-off over the Pegasus spyware, farm sector laws and handling of the second wave of Covid-19 when it came to dealing with the Afghan developments.
Jaishankar made it clear that India's top priority right now is the evacuation of all Indians from Afghanistan, which is already well underway. India has been allowed to operate two flights per day from Kabul and more than 600 people, including 565 Indians, have so far been brought back. However, evacuations have been slowed by the volatile security situation in and around Kabul airport, whose control is divided between the Taliban forces and the US. In turn, the opposition lawmakers asked how many Indians are still stranded and how New Delhi planned their repatriation after the August 31 deadline. 
Questions were also asked about how the Indian government views the situation in Afghanistan, what options it has with the Taliban dispensation and how New Delhi intends to pursue the visa regime for Afghans, irrespective of their religious identities, who feel unsafe or fear persecution under Taliban rule. Two key issues that came up were: did India hurriedly shut down its embassy in Kabul and consulates in Herat, Jalalabad and Mazar-e-Sharif and Kandahar by pulling out all Indian staff, and could it have waited a little longer?
Jaishankar made a robust defence of the closure of Indian diplomatic missions—his comments came just hours before powerful blasts rocked Kabul airport, resulting in scores of casualties. The minister pointed to the past when the Indian embassy in Kabul had been attacked thrice, and consulates multiple times, by terrorists. In view of the deterioration of the situation in recent weeks, India-based personnel were withdrawn from Indian consulates in Herat and Jalalabad. In June this year, India scaled down its diplomatic presence in Kabul and issued four advisories in the last three weeks asking Indian citizens to leave Afghanistan.
Another important question was if India would recognise the new Taliban regime, and if so, when. The participants in the meeting also wanted to know—what is the future of about 500 India-funded development projects in all 34 provinces in Afghanistan?
Opinion is divided on whether India should engage with the Taliban. Since the Taliban are the only de facto authorities in Afghanistan, should India not hold a dialogue due to its deep economic interests in that country, and for safeguarding Afghans of Indian origin? This, it is felt, becomes all the more important because India has no diplomatic presence there. India chose to close down its embassy in Kabul even when the US, European countries, China, Russia and Iran had not done so. The US and European countries have shifted their diplomatic missions to Kabul airport primarily to facilitate the evacuation.
On these questions, Jaishankar told the August 26 meeting that India was in wait-and-watch mode and would not rush to a decision. This is primarily due to acute uncertainty on the ground in Kabul, and differences within the Taliban and within the international community over the contours of a new government in Afghanistan. Besides, he underlined, the situation in Afghanistan was critical and there was no clarity as to how long the US will stay in that country. He indicated that there was "some coordination" with the "local authorities" in Kabul for the limited purpose of evacuation of Indians, but declined to elaborate, obviously for security reasons.
Some analysts in India noted a significant development when the UN Security Council on Saturday night skipped any reference to the Taliban from a paragraph in its statement that called on Afghan groups not to support terrorists "operating on the territory of any other country". India's former Permanent Representative Syed Akbaruddin was the first to point this out on his Twitter handle. It may be recalled that India is the president of the UNSC for August, and signed on the UNSC statement and issued it in its capacity as chair, in what is seen as an indication that India would not like to be seen as going against the international community when it came to recognising the Taliban. Jaishankar remarked that India's only long-term interest is the friendship of the Afghan people. But to secure and sustain that friendship built over the last two decades under non-Taliban rule, India needs to engage with whoever holds the levers of power in that country in future. 
On the other hand, the Taliban too came out with its first outreach to India on Saturday. In a video message in Pashto circulated on the social media accounts of the Taliban and Afghanistan's Milli TV, the deputy head of the Taliban office in Doha (Qatar), Sher Mohammad Abbas Stanikzai, said India is "very important for this sub-continent" and that his group wanted Afghanistan's cultural, economic and political ties with India to continue "like in the past." Of course, India needs to wait and see if Stanikzai's words are in sync with the Taliban's actions on the ground.
It is true that the turn of events in Afghanistan poses a serious national security threat for India, and has the potential to roil India's domestic politics and polarise society. Two members of the All India Muslim Personal Law Board (AIMPLB) in Uttar Pradesh state have gone on record supporting the Taliban, a development that was condemned by leading Muslim civil society members like actors Naseeruddin Shah and Shabana Azmi, and lyricist Javed Akhtar. Of course, AIMPLB sought to distance itself from the two members. A Bharatiya Janata Party (BJP) leader of Uttar Pradesh has also filed a sedition case against a Samajwadi Party lawmaker for allegedly terming the Taliban as "freedom fighters."
On the other hand, the inflow of Afghan Hindus and Sikhs into India has been utilised by Prime Minister Narendra Modi, BJP President JP Nadda and senior cabinet minister Hardeep Singh Puri to justify the Citizenship Amendment Act (CAA), which gives Indian citizenship to six religious minorities in Bangladesh, Pakistan and Afghanistan who came to India from the three countries till 2014. The BJP's former ally Shiromani Akal Dal leader Harsimrat Kaur Badal has demanded that the Indian government amend the CAA to extend the cut-off date of December 31, 2014 to facilitate citizenship for Sikhs taking shelter in India after the Taliban triumph in Afghanistan.
Surely, the August 26 meeting was intended to convey that India has a strong national stand on Afghanistan, and it will be unfortunate if scoring political brownie points by parties stands in the way of India's entire political establishment speaking in one voice on the Afghan issue.
Pallab Bhattacharya is a special correspondent for The Daily Star. He writes from New Delhi, India.