Tackling Covid-19: Are good days waiting for India?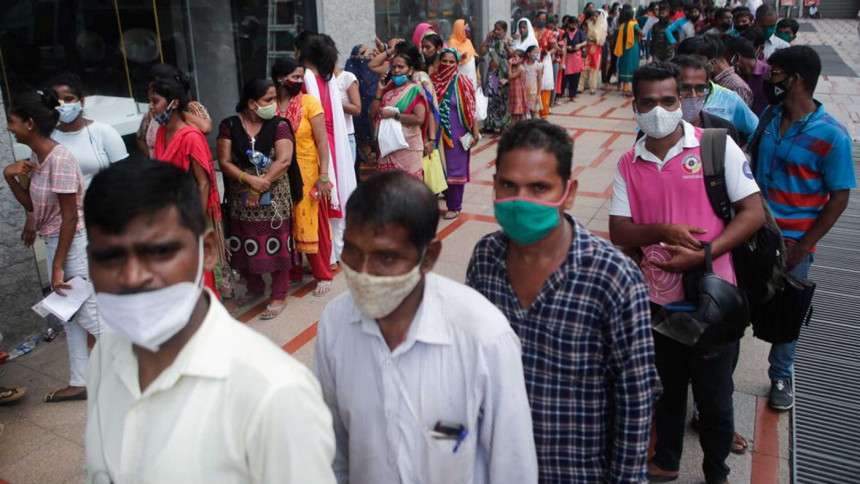 In its fight against the Covid-19 pandemic, India achieved two milestones in five days between August 27 and 31 while vaccinating its people. Both relate to a new high in the number of vaccine recipients—1.03 crore doses on August 27, and 1.28 crore on the last day of a month that saw nearly 18 crore doses being administered, up from 13.45 crore in July and 11.97 crore in June.
In all, more than 66.3 crore doses have been given so far and a little more than half of India's 94 crore adult population, who are vulnerable to due to the virus in terms of mortality, have either been fully vaccinated or gotten at least one dose. According to official statistics, almost all healthcare workers have received the first dose, and 83 percent got both the doses. Nearly 84 percent of frontline workers have been fully vaccinated.
The latest data on vaccination, coupled with low to moderate pace of new infection reports coming from most parts of India every day—which prompted WHO Chief Scientist Soumya Swaminathan to suggest that India may be entering "some stage of endemicity of the pandemic"—has brought some relief to the government of Prime Minister Narendra Modi, after its handling of the devastating second wave in March-April faced severe criticism. Health Minister Mansukh Mandaviya lost no time in hailing the highest single-day feat of vaccine dose administration on both the occasions.
But numbers are just one, even though important, part of the much larger story in the drive against Covid and, drawing a lesson after the first wave, gloating over them is best avoided because the virus and its unknown number of mutations are highly unpredictable as evidenced by rising breakthrough infections affecting fully-vaccinated people in many parts of the world. There is simply no scope for being lulled into complacency, as had happened in the run-up to the second wave of the pandemic. For example, take the recent report about Indian and South African virologists detecting a new variant named C.1.2, which was first detected in South Africa. This new strain is likely to be much more transmissible, but there is no clarity as yet about its possible virulence.
The main reason behind the sharp increase in the speed of vaccination—which had begun on January 16—in July and August is the drastic improvement in supplies of Covishield, the Oxford-AstraZeneca Covid vaccine which is manufactured by the Serum Institute of India, the world's biggest vaccine manufacturer, and Covaxin, India's home-grown vaccine produced by Bharat Biotech. According to officials, vaccine availability is set to go up to around 22 crore doses in September and nearly 35 crore in October, while 35 crore doses are expected to be in supply in the final two months of the year, when the government aims to inoculate the majority of the adults. Bharat Biotech plans to ramp up its production at its new plant in the state of Gujarat. Equipped with a capacity of more than one crore doses per month, enhanced supplies from Bharat Biotech's Ankleshwar facility will be available from September.
India has to aggressively push ahead with enhanced vaccine supplies, because schools are gradually set to reopen in different parts of the country—a move that calls for vaccination of children and teachers on an urgent basis. The increase in vaccine availability and the results of nationwide serosurvey covering 70 out of India's 718 districts that indicated the presence of Covid-19 antibody in about 70 percent of the country's population is, no doubt, a good news for the government.
But there are reasons not to get carried away and instead be on the side of abundant caution, particularly after the country's apex medical research body, the Indian Council of Medical Research, said vaccines are "disease-modifying" and not always "disease-preventing", especially when it comes to breakthrough infections, which means a fully-vaccinated person can get the disease again unless Covid-appropriate behaviour is adhered to. Secondly, there are reports that immunity generated by natural antibodies (following infection) or by vaccines are prone to waning, and that is why many countries are thinking about administering booster shots.
The increasingly ramped-up vaccine production and supply in India also raise the possibility of resuming vaccine export. Being the biggest manufacturing hub, India needs to step into this area, especially for its South Asian neighbours. India had supplied 6.6 crore doses from 2020 to early 2021 before the second wave of the infection and shortage in production led to a halt amid severe criticism of the Modi government. The government is in a once-bitten-twice-shy situation now.
Despite its belief that no one is safe until everyone is safe, India may not be able to export vaccines again without first ensuring adequate domestic availability. True, India has an important role in promoting global vaccine cooperation, and the WHO's COVAX window is looking up to the supply of vaccines made in India. But India needs to have a balance between its international obligation and commitment to its own people.
Pallab Bhattacharya is a special correspondent for
The Daily Star.
He writes from New Delhi, India.