Develop Chattogram's drainage system before more lives are lost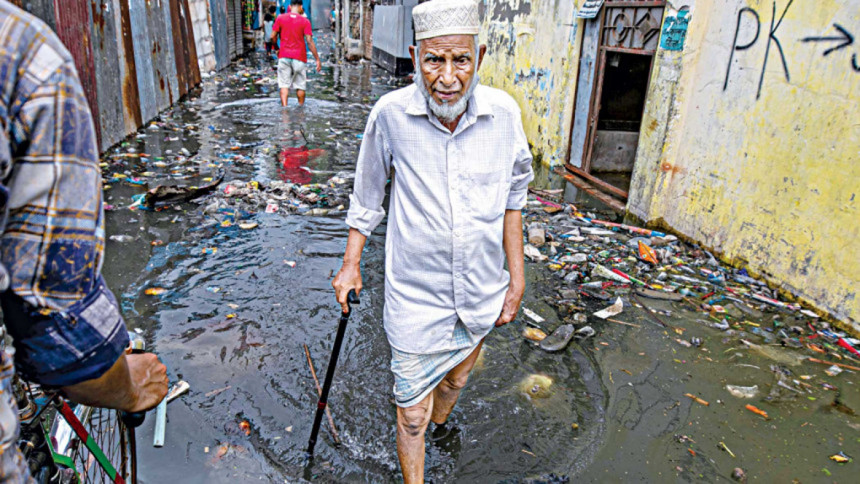 Chattogram, the country's second largest city and home to its main sea port, with an estimated population of 52 lakh people, has been suffering from serious water-logging and drainage issues for a long time. The problems worsen during the monsoon season every year due to heavy rains, disrupting daily lives and local businesses. The damage during the last decade, calculated by the Planning Commission, has been worth over Tk 250 crore annually, on average. It has reached a point where even lives have been lost as a result—in September this year, a 19-year-old student died after falling into a roadside drain. This was the fourth such death in the city that occurred during the June to September period.
Unplanned urbanisation is a major cause of water-logging in the densely populated city. There are about 40 canals in the port city, locally known as khals. There used to be many more ponds and other water-retaining areas that have been filled up due to the fast pace of spatial development. Thus, water cannot flow down to the river quickly anymore, resulting in the inundation of city roads and residential areas. According to the District Fisheries Department, the total number of water bodies in the city was 19,250 in 1991, which came down to 4,523 in 2007, as reported by the Chattogram Development Authority.
The major canals running through Chattogram city are Chaktai Khal, Rajakhali Khal, Mahesh Khal, Jamalkhan Khal and Nasir Khal. All these canals play very important roles in draining rainwater out to the Karnaphuli river in the south of the city. However, these canals have all been narrowed down, and many have even disappeared in different places. A considerable amount of siltation has reduced the water flow capacity, and canals have also been filled up with garbage and solid waste, which have not been excavated properly for many years. The city areas that suffer the most severely due to water-logging are Bakalia, Chawkbazar, Agrabad, Halishahar, Kapasgola, Chandgaon, Shulakbahar, Bahaddarhat and the Probartak intersection. Katalganj and Firingi bazar, two major business centres, are highly vulnerable to water-logging and incur huge losses every year.
As has been reported in news media recently, especially after the recent deaths—the open drains pose major risks for city-dwellers. In Chattogram city, four different agencies are responsible for the maintenance and provision of an adequate and environment-friendly drainage system, which includes cleaning, excavation of canals, non-encroachment and development work. These are Chattogram Development Authority (CDA), Chattogram City Corporation (CCC), Chattogram Water and Sewerage Authority (WASA) and Bangladesh Water Development Board (WDB). The level of cooperation and coordination among these urban agencies is definitely not strong enough for effective management and operation of the drainage system.
The CDA undertook a Tk 5,617 crore project in 2017 for the proper planning and construction of drains to mitigate water-logging in the city. The project started with a two-year delay and so far, 60 percent of the work has been completed (Tk 2,700 crore has been spent), and the new completion deadline has been established as June 2023. The CCC also undertook a project worth Taka 1,256 crore six years ago, whose newest deadline passed us by last month. Yet, according to an August 3 report from The Daily Star, the project work had not even started by that point due to complications in acquiring land. The Water Development Board (WDB) has also been involved in solving the city water-logging problem and has undertaken a Taka 1,620 project in 2019, which it has barely started to implement.
Inadequacy of drainage channels creates adverse impacts on environment and public health. A well-designed urban drainage system in Chattogram is a necessity that we cannot ignore anymore. The issue of water-logging is not, however, only an issue of the implementation of different development projects. It is one of constant efforts to keep water channels clean, retain water bodies in and around the city, reclaim illegally occupied canals, and build awareness on the value of proper disposal of household and commercial waste in their designated places, instead of throwing them into water bodies and canals.
At the same time, an approach to use natural drainage channels, as well as build wide drains, should be the strategy to cope with the issue of water-logging in Chattogram city. The use of good quality materials should be ensured in the construction work for durability, and the drains should be constantly kept clean to avoid water-logging. The policy should be to construct covered drains and follow a city-wide approach. Piecemeal approach to drain construction ends up being non-functional and can even make matters worse. Proper planning to stop indiscriminate urbanisation is also an essential prerequisite to ensuring a viable drainage system.
Water-logging can be mitigated by properly designing drainage networks and facilities. We should be expecting between two to four percent urban growth annually in Chattogram city, and should be planning the city as well as its future drainage system to cope with this growing urban population. The massive investment projects undertaken by the CDA, CCC and WDB should be completed rapidly to contain the city's water-logging problem. This cannot be done without stronger coordination between these three organisations, along with other government service agencies responsible for telephone, electricity, gas and water supply who have laid down their lines through the canals. Last, but not least, adequate operation and maintenance provision should be kept in the annual budgets of these organisations.
Dr Nawshad Ahmed is an economist, urban planner, and a former UN official.