A bond that was forged by war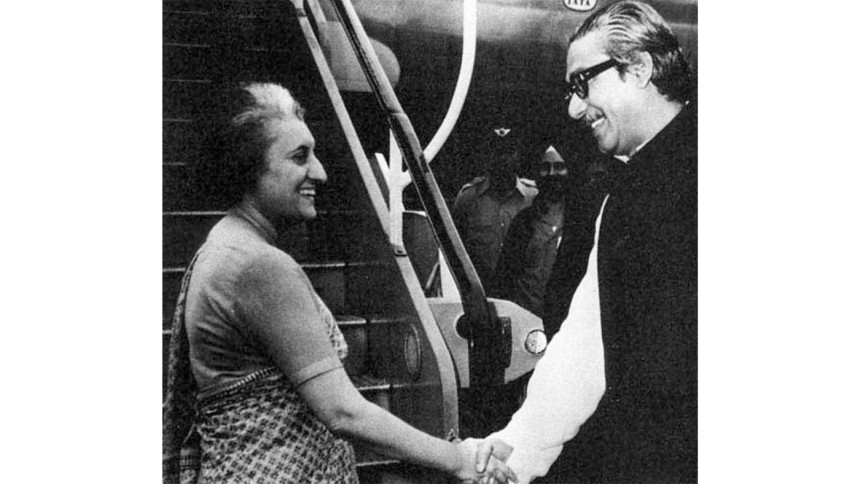 "This is my last message. From today, Bangladesh is a sovereign and independent country…," these words of Bangabandhu Sheikh Mujibur Rahman demolished the Pakistan that was created on August 14, 1947 by the British rulers. A new country, Bangladesh, was born out of the remains of East Pakistan at zero hour on March 26, 1971—immediately after the launch of "Operation Searchlight" by the Pakistan Army. However, it took 266 days to liberate Bangladesh from Pakistani occupational forces, who committed unprecedented genocide, killing three million innocent Bangladeshis, while forcing 10 million more to take refuge in India, and raping several hundred thousands of Bangladeshi women, alongside running a campaign of arson, looting and destruction of infrastructures. On March 31, 1971, the Indian Parliament passed a historic resolution moved by Prime Minister Indira Gandhi, pledging whole-hearted support to the people of Bangladesh in their struggle for independence. The resolution concluded, "...This House records its profound conviction that the historic upsurge of the 75 million people of East Bengal will triumph. The House wishes to assure them that their struggle and sacrifices will receive the whole-hearted sympathy and support of the people of India."
Tajuddin Ahmed, Number Two after Bangabandhu in the Awami League, was flown to Delhi after he crossed over to India. He had meetings with the Indian prime minister on April 4 and 5, 1971 and put forth his plan to form a government, and requested her to accord recognition to sovereign independent Bangladesh. Indira Gandhi's instinctive reaction was giving immediate recognition to independent sovereign Bangladesh, and back its liberation struggle with full military support. However, the then Indian Foreign Minister Sardar Swaran Singh cautioned her that while it was ultimately what India would have to do, it must also ensure that its credibility and political correctness were not questioned. He felt that India could face collective international opposition from greater powers and the United Nations Organisation (UNO) as it could be accused of interfering in the neighbouring country's affairs and fragmenting it. The PM's Secretary PN Haksar supported Swaran Singh. Mrs Gandhi did not commit about recognition, but she assured Tajuddin Ahmed that India would allow the Bangladesh government to function on the Indian soil and would provide the wherewithal for its functioning.
On April 17, 1971, the first government of sovereign independent Bangladesh was sworn in in a liberated area which was called Mujibnagar. The new Bangladesh government was located at 8 Theatre Road (now Shakespeare Sarani) in Kolkata, although it was claimed that it was functioning from liberated areas. A prominent citizen of Kolkata, Ashutosh Ghosh, welcomed the Mujibnagar government, including members of the national and provincial assemblies, to his big house. This building at Circular Road (now Moulai Road) has become part of the history of the Liberation War. The Mujibnagar government guided the glorious Liberation War with deft skills. AK Roy, a former Indian counsellor in Dhaka who knew all of the senior Awami League leaders, including Bangabandhu and Tajuddin Ahmed, was detailed to liaison with the government. He was assisted by Arundhati Roy, a young Indian Foreign Services officer. There was a complete synchronisation between Bangladesh and Indian governments. Although Bangladesh was not officially recognised yet, all protocols and courtesy were extended to its functionaries by the Indian government.
With the Indian Army's help, more than 100 officers and 96,000 Mukti Bahini and Mujib Bahini cadres were trained, and three brigade-sized forces—Z, S, and K Forces—three artillery batteries, an air force unit and a naval unit were made ready for war. Under Operation Jackpot, the Indian Army set up seven training-slash-operational sectors, commanded by a brigadier, alphabetically numbered from A to E. In Sector A, located at Murti near Darjeeling, an Officers' Training Wing (OTW) was established, where officers of First and Second War Courses were trained. Among them, Shaheed Captain Sheikh Kamal, son of Bangabandhu and brother of Bangladesh Prime Minister Sheikh Hasina, was also a cadet.
The Mujib Bahini was trained by an establishment that functioned directly under the Research and Analysis Wing (RAW)—where Bangabandhu's second son Shaheed Lieutenant Sheikh Jamal was also trained. Bangladesh was divided into eleven operational sectors, of which 10 were deployed on the ground under the command of senior Bangladeshi majors and lieutenant colonels. And one sector operated directly under the command of Bangladesh C-in-C Col MAG Osmani.
On November 30, 1971, the joint command of Bangladesh and Indian forces was formed under Lt Gen JS Aurora. There was complete cohesion between the Indian Army and Mukti Bahini. As the final battle for Bangladesh's liberation was going on from December 3, a fierce diplomatic war was taking place in the UNO and Washington, DC. Justice Abu Sayeed Chowdhury represented the Bangladesh government in New York. Speaking in parliament on December 6, Indira Gandhi gave a brief background of Bangladesh's struggle, starting from the creation of Pakistan in 1947, and then proclaimed, "I am glad to inform the House that in the light of the existing situation and in response to the repeated requests of the Government of Bangladesh, the Government of India have, after most careful consideration, decided to grant recognition to the Gana Prajatantrik Bangladesh (People's Republic of Bangladesh). It is our hope that with the passage of time, more nations will grant recognition and that Gana Prajatantrik Bangladesh will soon form the part of the family of nations. Our thoughts at this moment are with the father of this new state—Sheikh Mujibur Rehman. I am sure this House would wish me to convey to their excellences the acting president and the prime minister and to their colleagues our greetings and facilitations." The announcement was greeted by unprecedented applause by the then members of the Indian Parliament. On December 16, 1971, at 1701 hours in Bangladesh standard time, Dhaka became the free capital of a free country. The Bangladesh government moved to Dhaka on December 22, 1971. It was one of the most momentous events in the nine-month saga of a struggle for freedom, all of which had been spent in ensuring that liberty came to define the global position of the Bengali nation through a spirited Liberation War. The triumphant return of Bangabandhu Sheikh Mujibur Rahman to a sovereign Bangladesh on January 10, 1972 was yet another landmark in history.
Today, as both countries celebrate the 50th anniversary of establishing diplomatic ties, their relationship is at its zenith. However, some irritants like river water-sharing, etc still linger, which must be resolved as a priority, because the destinies of the two countries are intertwined due to geographical, historical and cultural compulsions.
RP Singh, VSM, is a retired brigadier of the Indian Army, and a veteran of the 1971 Bangladesh Liberation War, in which he was involved in different capacities from day one till the surrender of the Pakistan Army on December 16, 1971.