Call drop continues to be an annoyance
Give the users their money's worth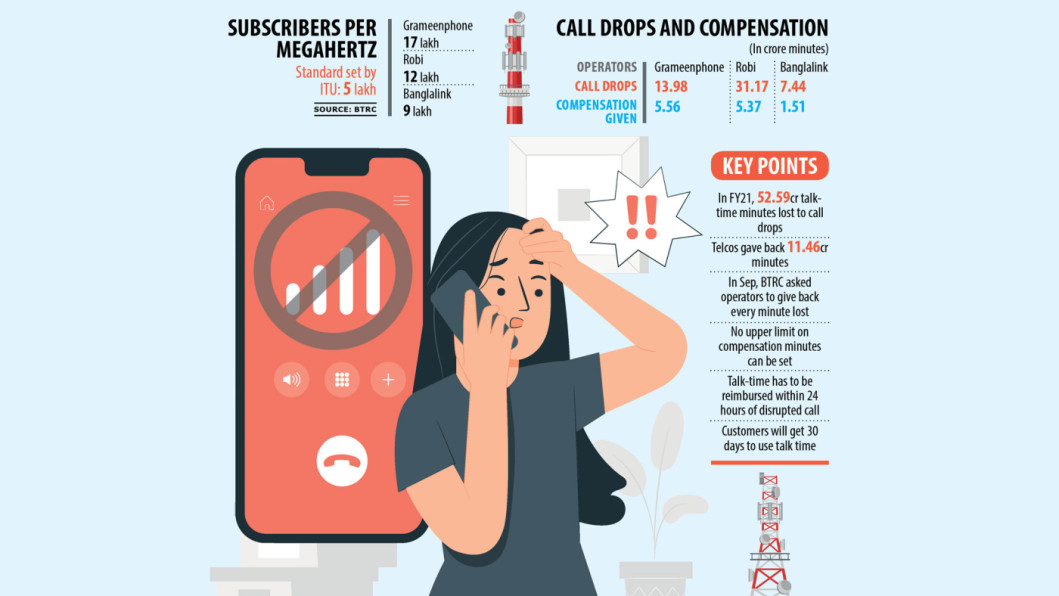 Although users in Bangladesh cough out more per minute of talk on mobile phones than users in other countries of the region, the service, we feel, can be much better than what it is at present. People continue to be dogged by frequent disruptions in communications—technically known as call drop, without being adequately compensated. Although the volume of call drop has halved from the last fiscal year, in the 12 months up to June this year, users experienced disruptions of 52.59 crore talk-time minutes, according to a recent report of a committee formed by the BTRC to assess the quality of telecom services and the call drop issue. That translates to nearly 4.5 crore calls per month or nearly 40 lakh calls per day.
While there are both technical and systemic reasons for this, the most obvious is the fact that the number of towers does not meet the requirements of the increasing number of mobile and internet users in the country. Reportedly, very few new towers have been built in the last two years despite the fact that the number of mobile users has increased by about 20 million in the last couple of years. To compound the matter, the telecom operators use radio frequency for transmission and link instead of fibre optic cables, which are a far better vector for the purpose. In this regard, we believe the BTRC has a role to play by rescinding its order of 2011 preventing the use of fibre optic cables.
Call drops can be a nuisance. Anyone who has suffered it—and most of us have—will vouch that it is more than annoying, particularly during an emergency. Conversely, the service providers are not living up to their commitment to compensate the users fully for service disruption. They are, reportedly, giving back only 15 to 30 percent of the loss incurred by a user, a gross breach of the BTRC directive which stipulates that the users must be compensated in equal amount of the loss they incur. In another violation of the directive, only on-net call drops (on the same network) have been compensated, whereas off-net call drops (on other networks) have been ignored. The surprising aspect of the matter is that none of the major service providers possess up-to-date data on call drops. That is why it is not possible to determine exactly whether the rate of call drop is within the internationally accepted two percent.
   The current situation admits of no excuse. The technical glitches must be removed. The regulatory provisions must be implemented stringently and oversight must be maintained strictly, and spectrum hoarding penalised. That is the only way to ensure that the users get their money's worth.