Will Bangladesh's forwards finally come forward?  
When head coach Oscar Bruzon asked the national football team manager Satyajit Das Rupu how many goals were scored by the forwards during training, Rupu signalled the Spaniard with his raised index finger and Bruzon heaved a big smile.
With Mahabubur Rahman Sufil relentlessly whipping crosses for the forwards, only Saad Uddin could convert one while Matin Mia and Suman Reza found the back of net when Saad crossed a few from the flanks at the start of today's training at the Heinveru training ground in Male.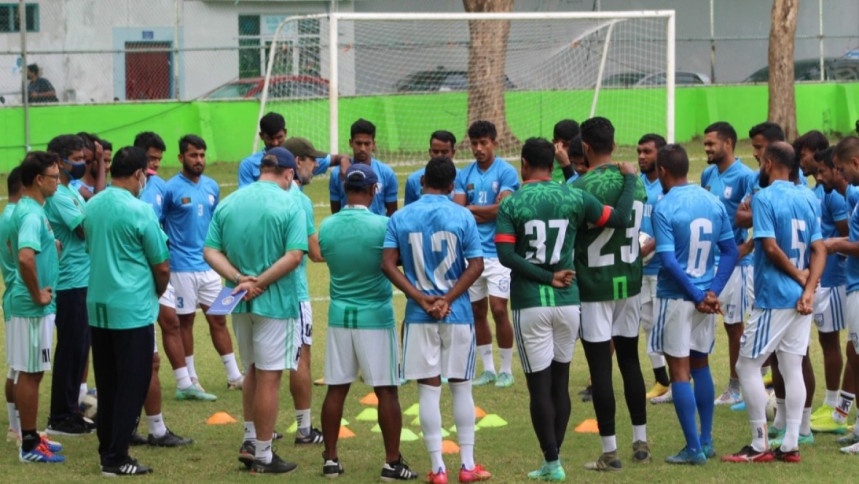 Of course, Bruzon's reaction makes sense as Bangladesh find themselves needing nothing short of an outright victory over Nepal to secure a final berth at SAFF Championship after 16 years.
Now, who will come forward to rescue Bangladesh, much like what Sunil Chhetri has been doing for a struggling India, remains one of the trickiest events to predict. 
Defenders Tapu Barman and Yeasin Arafat struck against Sri Lanka and India, respectively, in the first couple of games with the forwards still soul-searching, as was evident even during the training drills earlier today.
Jewel Rana, Suman Reza and Rakib Hossain are the top three scorers among the local players in the domestic league but they have not yet delivered as scorers in the 13th edition of the ongoing regional football extravaganza.
"Actually when we play, we all try to score but sometimes we fail to do so. If we can implement coach's instructions in the game against Nepal, then we can hope for something great. We're trying to play attacking football," said forward Rakib Hossain, after two long hours of training this afternoon.
When reminded about Bangladesh previously collapsing under such pressure-cooker scenarios and how they plan to withstand the pressure, Rakib expressed strong optimism.   
"We aren't under pressure, rather, Nepal are under pressure because they only need a draw to reach the final while we need a straightforward win. We will play for victory.
"We couldn't click against Maldives because of fatigue but everyone is eager to put their best against Nepal to confirm our place in the finals," said the winger of Chattogram Abahani, who also categorised Nepal as a good side having a compact defence.