No more sleepless nights for Yeasin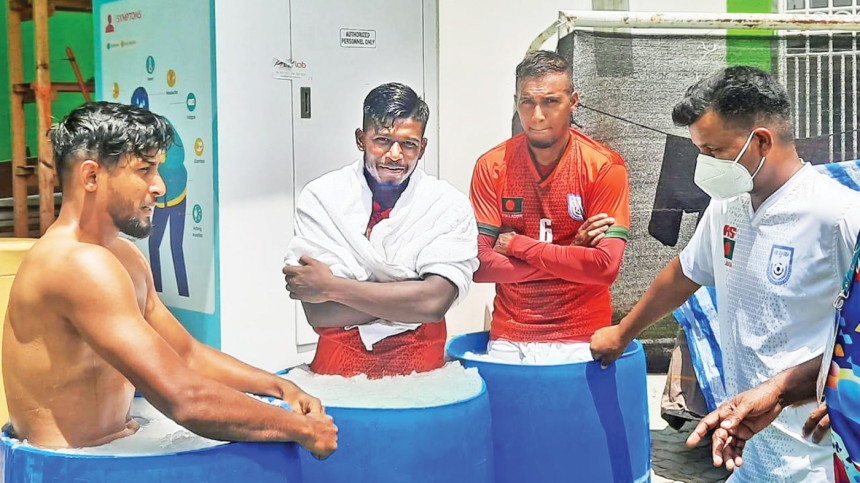 Ahead of the start of the match against India in the SAFF Championship, Yeasin Arafat was distracted for a second as he recalled an incident in the final of the 2019 SAFF U-18 Championship against their Indian counterpart in Kathmandu when Bangladesh's left-back had been sent off for a second booking after covering his face with his jersey in celebration after cancelling out a second-minute lead from Vikram Partap Singh.
Bangladesh U-18, reduced to nine men, lost that final in gut-wrenching fashion, conceding in stoppage time in a 1-2 defeat and ending as runners-up in the maiden U-18 championship in September, 2019.
Yeasin burst into tears in the dressing room and endured sleepless nights. It would not be until another September day two years down the line that Yeasin would exact a measure of vengeance and banish those demons.
Yeasin found the back of the net with a perfect header in the 74th minute to earn a valuable point against India in a SAFF Championship game on Monday, a feat made all the more impressive by the fact that the men in red and green had been reduced to 10 men for the game's last 40 minutes.
"When Bishwanath Bhai was sent off, the incident from the SAFF U-18 championship flashed in my mind. I was thinking whether we could do well after going a man short but I had faith in the Almighty and we drew against India with my strike," beamed Yeasin, whose strike was his maiden strike for the senior side although he has scored against India, Jordan and Bhutan in age-level competitions.
"When I started against India, I recalled the incident and I had revenge on my mind. Right now, we have no regrets about losing that final," said Yeasin, who captained that U-18 team.
He also slept soundly yesterday.
Explaining the thinking behind their set-piece strategy, the 19-year-old defender explained: "When we were analysing and planning for India's set-pieces before the match, we saw that they stayed compact in the box but their far post was vulnerable. So all our players moved to the near post to deceive them and I stood at the far post and nodded home."
 "You need luck to get goals in the national team but you always have to be prepared to take opportunities because you don't know when the chance will come," Yeasin, who has also scored two goals for Saif SC in the Bangladesh Premier League, said, adding that he did not feel any pressure to stop Sunil Chhetri.
Yeasin was groomed in Narayanganj under the guidance of local coach Aslam before being selected for the Sylhet Football Academy. He then played the Pioneer Football League for Arambagh before joining Bangladesh Premier League side Saif SC in 2017. Over the past three years, he has played more than 50 matches for Saif SC. He made his national debut against Bhutan in a friendly in 2019, coming on as a substitute.