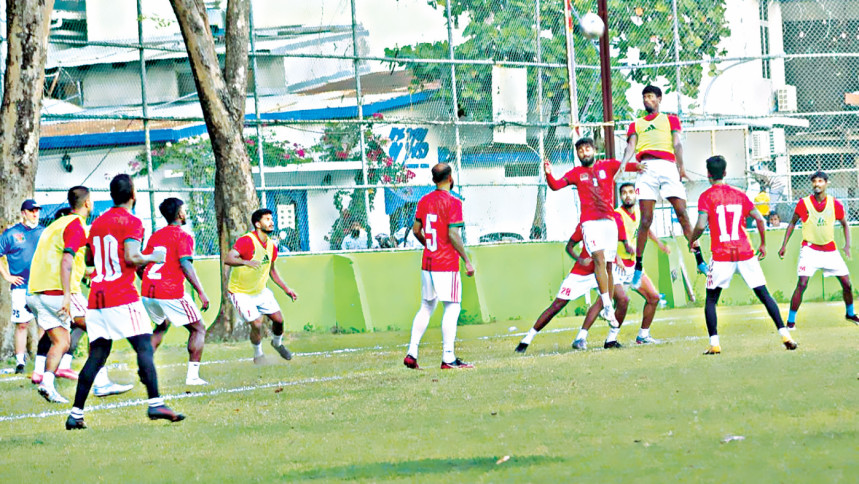 Bangladesh national football team are looking forward to putting an end to a 16-year drought for a place in the SAFF Championship final as they square off against Nepal in a do-or-die clash at the National Football Stadium in Male, Maldives today.
The match will get underway at 5:00pm (Bangladesh Standard Time) before hosts Maldives and India play the final group match at five hours later.
Both matches have seemingly turned into virtual semifinals as Bangladesh and India need victories to advance to the final while a draw for Nepal and Maldives will see them through. 
Though Bangladesh hold an edge over Nepal in head-to-head record, with the men in red and green winning 12 out of 24 matches against Nepal's eight wins, the Himalayan nation have a better record in recent times. The Gorkhalis have beaten Bangladesh in last three meetings of the SAFF Championship. Nepal have not lost against Bangladesh in their last three meetings, winning the most recent encounter 2-0 in Kathmandu in March this year.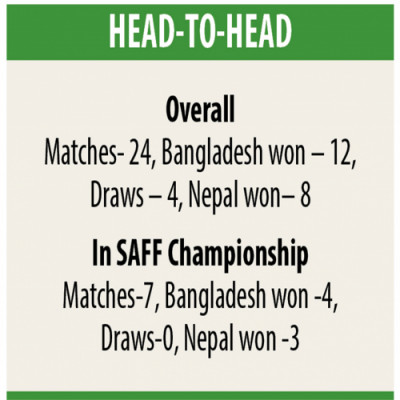 Nepal have shown character in the ongoing tournament by beating Maldives 1-0 and Sri Lanka 3-2 before suffering a 1-0 defeat against India in their last match.
Bangladesh had a good start too with a 1-0 win against Sri Lanka followed by a 1-1 draw against seven-time champions India, despite playing majority of the second half with 10 men.
However, the charges of Oscar Bruzon are under pressure following their 2-0 defeat against Maldives as they now need a victory in the must-win fixture.
After two days' rest and three days' practice, the confidence of Jamal and Co is apparently high and they look determined to bounce back.
"Thing is back on the track. The energy is full, the intensity is full, and willingness to do something is full. We are going to face Nepal, who have self-characteristic that we need to be aware of. They are not going to be a team that won't fight us for the possession of the ball. They are not going to be a team that won't play in our half. They are really sharp and practical. They have excellent runners in the central area of the pitch, so we may need to change a bit of our game style. All of us have to try to find out the best way to beat Nepal. We have our own weapons and we are really confident that tomorrow is going to be our day," Bruzon said at the pre-match press conference yesterday.
"We all are taking it as the true semifinal and it is fantastic to be here in this position. Before the tournament, I said that our main rivals are Maldives and Nepal. We could not make it against Maldives but now we have another opportunity against Nepal and we will be trying to make it against Nepal and keep trusting us," said Bruzon, who got only six sessions to prepare the team before heading for the tournament last month.