Can Bangladesh overcome the odds?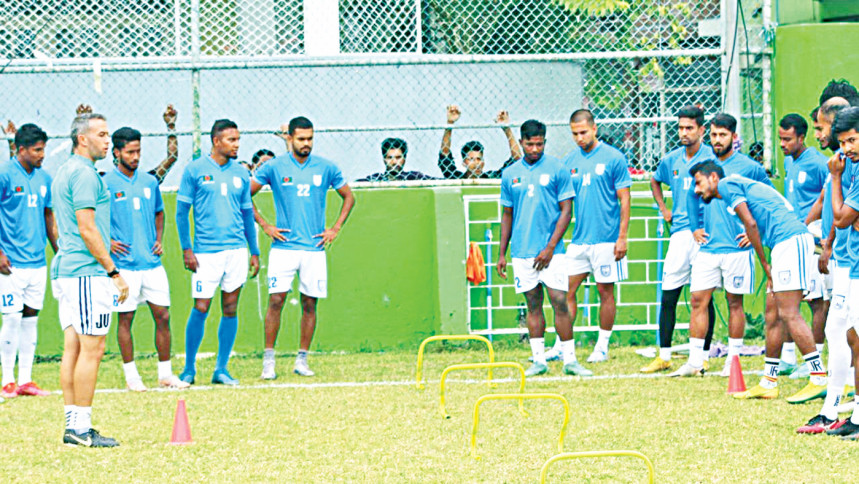 The fate of Bangladesh in the ongoing SAFF Championship was no longer in their hands after losing 2-0 to Maldives in their third and penultimate match of the group stage, but it all changed on Sunday night after India beat Nepal 1-0 to keep their and Bangladesh's hope of qualifying to the final.
Bangladesh and India find themselves in a must-win situation against Nepal and hosts Maldives, respectively, in their fourth and final match of the group stage to feature in the final on October 16 at Maldives National Stadium in Male. On the other hand, a draw is good enough for both Nepal and Maldives.
For Bangladesh, a do-or-die scenario is nothing new as they had found themselves in such a situation in eight out of the previous 12 editions of the tournament.
In those eight occasions, Bangladesh had succumbed to pressure five times, including the last edition of the tournament in Dhaka; while one of the three instances of success included their debut appearance in 1995 in which Bangladesh had beaten Nepal 2-0 to advance to the semifinals.
During the fourth edition of the tournament in Goa in 1999, the men in red and green thrashed Pakistan 4-0 to emerge as group champions on goal difference in a three-team group.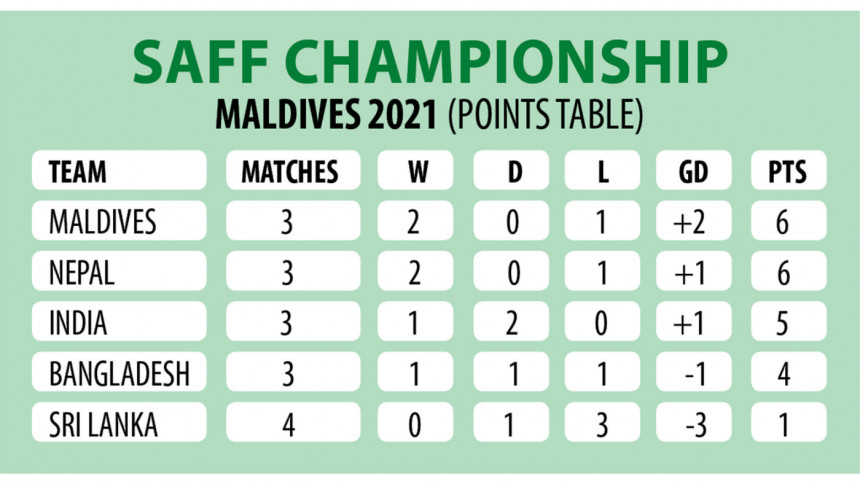 The last time Bangladesh had crossed such a hurdle was in the 8th SAFF Championship in Dhaka in 2009, where they managed to beat Sri Lanka 2-1 to secure a spot in the semifinals.
Prior 2009, Bangladesh had failed twice in attempting to turn around such a tight corner, needing outright victories in both cases. First, during 1997 in Nepal, where Bangladesh surrendered 0-3 against India, followed by a 0-1 defeat against hosts Sri Lanka during the tournament's 7th edition in 2008.  
Post-2009, however, Bangladesh have been miserable in the last four editions of the tournaments in which they were knocked out three times -- during 2011, 2013 and 2018 in India, Nepal and Dhaka, respectively -- in the face of pressure-cooker, must-win situations.
In the ninth edition in Delhi, the men in red and green went all out against Maldives in the last group match to play the semifinals but were eliminated instead, having suffered a horrible 1-3 loss to the Islanders.
In the very next edition held in Kathmandu, Bangladesh again found themselves needing no less than a win but despite taking a lead against Pakistan, they eventually lost 1-2.
The latest setback happened in Dhaka in 2018, where the hosts had a great start in the game's 12th edition with a back-to-back win over Bhutan and Pakistan, and needed just a draw against Nepal to play the final after a long wait of five tournaments. However, Nepal had other ideas and handed a convincing 2-0 defeat to Bangladesh, who were eliminated again, but on the virtue of goal difference this time around.
Now, it remains to be seen whether the men in red and green can overcome the challenge of Nepal to play the final of the regional football extravaganza after 16 long years.