Bangladesh lose Joy, Mushfiqur in testing session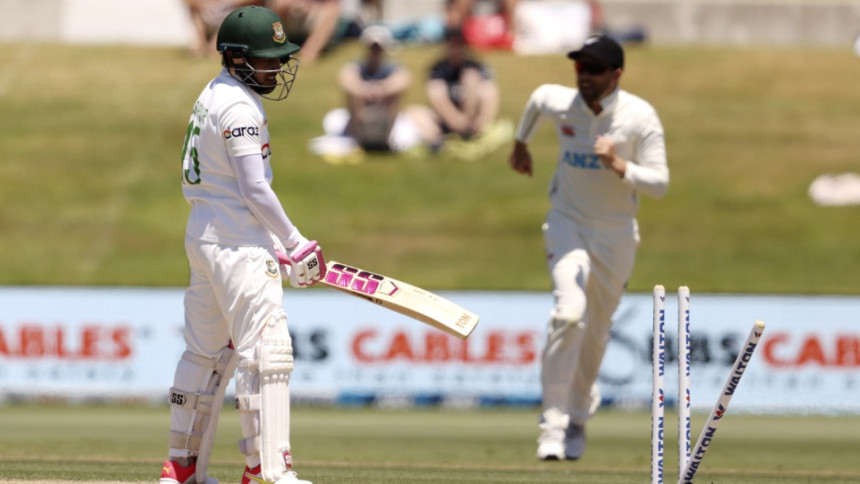 It's 6 am (BST) as lunch is called at 1 PM on day three of the first Test at Mount Maunganui. It has been an intriguing session of play with the ball having a sway over the bat. Bangladesh started the day at 175 for 2, finding themselves in a commendable position following Mahmudul Hasan Joy's unbeaten 70 and Nazmul Hossain Shanto's 64. However, there were tricky challenges on offer for Bangladesh with the old ball shaping away quite a bit early for both Neil Wagner and Kyle Jamieson.
Joy, adding eight to his overnight score, persished early, playing an uncharacteristic shot chasing an angled delivery from Wagner in just the third over of the day. Wagner then put Bangladesh and Mushfiqur in particular through a bouncer barrage. Mushfiqur resorted to not taking the bait but run-making was slow in the early morning.
Captain Mominul was particularly watchful but was lucky when Jamieson could not manage to hold onto a catch on the follow through after the Bangladesh skipper had closed the face of the bat early. Then Wagner got the edge of Mominul's bat in the 80th over but third-umpire intervened to call Wagner for a front foot no-ball that saw the skipper survive. The Kiwis took the new ball next over but while the old ball had been moving around a bit, it was not doing as much for Trent Boult and Tim Southee next spell.
Boult seemed frustrated at one point with the lack of swing and changed his course of action against the patient Mushfiqur. He produced an angled delivery from over the wicket to the the right-handed Mushfiqur in the 89th over which darted out just a shade. Mushfiqur somehow played all-around the Boult delivery while looking to work it to the on side only to see his stumps disturbed, out after a 53-ball 12.
Mominul played his only shot in anger while trying to slash a Wagner delivery in the 87th over but the left-hander's 97-ball 17 helped Bangladesh stave off Kiwi attack without further losses of wicket. Liton Das, who came in at the departure of Mushfiqur, crunched a few boundaries to reach 12 of 17 as Bangladesh reached 220 for four at lunch, having added 45 runs to their overnight score and losing two wickets in the first session, still 108 runs behind New Zealand's first innings total.
Joy departs early on day three
Bangladesh lost an early wicket on day three as Mahmudul Hasan Joy departed after adding eight runs to his overnight score of 70. Neil Wagner and Kyle Jamieson get some nice shape away from the right-handed Joy from the off but Joy appeared to be a lot more adventurous at the start of the day.
Wagner in particular was also starting to zone in on his trademark bouncers during the early challenging exchanges. Joy, unlike his approach on day two, uncharacteristically played a few away from his body with the ball shaping away in the early overs. He got in a few drives to keep pressure off but Wagner slanted one across in the third over that Joy played away from his body in the air, finding Henry Nicholls at point. Joy's wicket saw Wagner bag his third wicket of the innings and was having an effect while the rest of the New Zealand quicks are perhaps eying the new ball which is due after 13 overs.
Joy goes after a 228-ball 78, having played a valuable hand in Bangladesh winning the final two sessions yesterday. Meanwhile Wagner continued his examination on new batsman Mushfiqur Rahim as Bangladesh reached 191 for three after 74 overs.