What is a "Model Pharmacy"?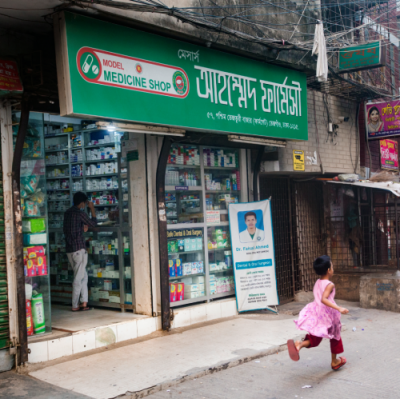 Have you ever come across the term "Model Pharmacy" or "Model Medicine Shop" displayed on the signs near the entrances of certain pharmacies, sometimes entailing a lot of other difficult to read small writing, and wondered what the term meant?
The basic concept involves certain rules which model pharmacies are expected to follow. In my opinion, an easy way to understand this is by what the term "model" normally indicates -- ideal.
Ideally, certain rules are meant to be followed by such pharmacies, including the presence of a designated area for storing medication that cannot be dispensed without a prescription given by a doctor. This actually applies to medication, including antibiotics, the misuse of which can cause antibiotic resistance.
Also, when you buy medication, you may have inquiries regarding the medicine you have been prescribed and prefer to have things explained to you in person rather than looking for answers on the internet.
Understandable, because sometimes looking for answers on the internet can make one feel like a hypochondriac -- everything you see seems to apply to you. The model pharmacy initiative specifically mentions the minimum educational requirements for practicing pharmacists to dispense medication to you. What this does is it allows you to be properly counselled.
Yes, patient counselling can also be done by pharmacists to rid you of any confusions you may have regarding the medicine you are about to take, such as side effects and whether or not you can opt for alternative drugs with the same generic name.
The requirements set by the regulatory authority, which can be found on the official Directorate General of Drug Administration website, include particular conditions regarding the storage of medicine. You'd be surprised upon discovering how specific medications are actually meant to be stored, and being counselled regarding this can actually help your medication remain effective and safe for longer.
Setting a minimum educational requirement for the role likely increases the safety of the patients concerned as potentially more efficient healthcare is offered, which is one of the main objectives of the model pharmacy initiative. It has also increased employment options for pharmacy graduates. Model pharmacies are not solely limited to independent retail pharmacies. They also include some well-established hospital pharmacies too.
Before I started studying pharmacy, I was confused as to what pharmacists actually do. When I finally started my degree, I found myself explaining to all my friends that simply selling medication does not make you a pharmacist, and that there are also a lot of other tasks we are required to do.
The model pharmacy initiative may have been the stepping stone to providing more employment options to pharmacists and hopefully may contribute to increasing communication between qualified pharmacists and patients, so that I may one day not have to explain what I do anymore.
Bushra Zaman likes books, art, and only being contacted by email. Contact her at bushrazaman31@yahoo.com