Life In Bhasan Char: A year on, now it's all settled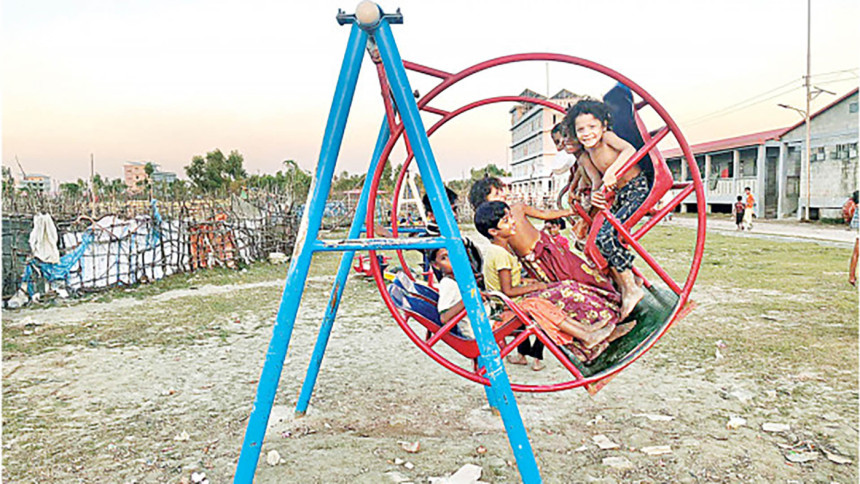 For Abdul Jalil, life in Bhasan Char is way better than it was in a cramped Rohingya refugee camp in Cox's Bazar.
After a year of being on the island in the Bay of Bengal, he is now able to earn a living.
The 40-year-old grows spinach and radish in one bigha of land, and sells his harvest at a kitchen market. Over the last one week, he earned around Tk 500 everyday.
"I am expecting to sell vegetables worth Tk 30,000 this year," Jalil told The Daily Star yesterday.
He hopes that things will be even better when the United Nations begins humanitarian operations in Bhasan Char.
On December 3 last year, Jalil arrived on the remote island in the first batch of Rohingyas from the crowded camps in Ukhia and Teknaf, the world's largest refugee settlement. The government relocated them to provide them with a better life and livelihood. Another reason behind the relocation was to reduce the pressure on the Rohingya camps.
The government has so far relocated around 19,000 Rohingyas in multiple phases. Initially, the UN was not involved with the humanitarian support programme in Bhasan Char. But the UN recently signed a MoU with the government to extend support.
Bangladesh Navy developed the island under a Tk 3,100-crore housing project.
Ali Akbar, another Rohingya man, said, "Everything is almost settled now. Since the UN is coming here, we will see better days."
Bhasan Char island has 120 brick-built cluster villages and 120 cyclone shelters. There are  flood protection embankments, facilities for education, farming and fishing, hospitals and playgrounds. Buildings for the aid agencies were also constructed there.
A high-level team of the UNHCR visited the island on Thursday and spoke to the Rohingyas. However, the team declined to talk to the media.
Once a quiet and calm island with a few shops, Bhasan Char has seen a massive change with around hundred small shops being set up by the refugees.
The refugees now earn a living by engaging in farming, fishing, shopkeeping, rickshaw pulling and other occupations.
"If we find work, life will be more joyous and more people will be interested to come to Bhasan Char because it is safe here and everyone has a home.  We moved here in search of peace and we got it," said Jamila Khatun, a mother of five.
There are even shopping malls in Bhasan Char. On the ground floor of Island Mall, there is a super shop, modern salon and laundry service. There is a restaurant on the first floor and rooms are being constructed on the second and third floors.
Abdul Hannan, manager of the mall, said, "Our business is getting better. We started just three months ago."
Anowarul Kabir, deputy director of Bhasan Char development project, said the attitude and mentality of the Rohingyas have changed a lot in the last one year.
Initially, they engaged in criminal activities due to resource shortages, but now they are finding proper ways of making a living, he said.
The project, funded with public money, was taken after some 750,000 Rohingyas fled a brutal military crackdown in Myanmar's Rakhine and took shelter in Cox's Bazar in the months following August 2017. They joined some 300,000 other Rohingyas, who had fled previous waves of violence in Rakhine.
The project was approved in November 2017.