G20 Summit 2017
A retreat from multilateralism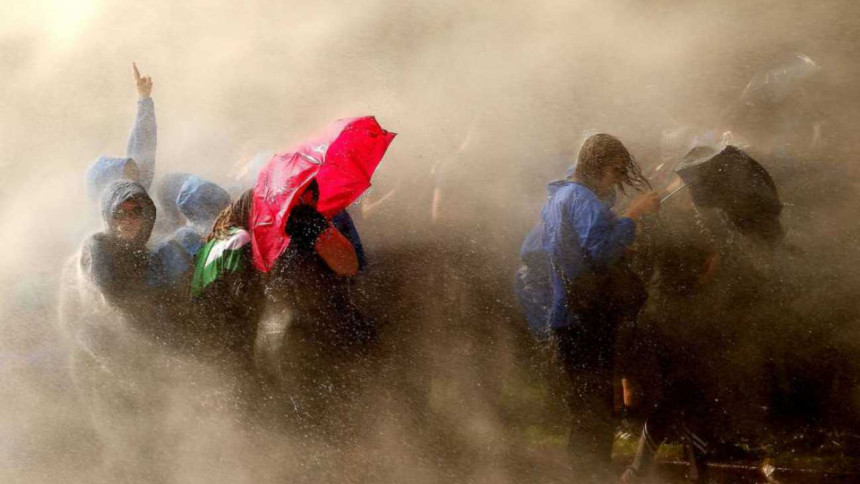 The two-day summit of the exclusive but informal club of G20 comprising of the big industrial and developing countries, held between July 7-8, ended with the issuance of a Communiqué, a ritualistic outcome of such events. The 13-page document includes issues like terrorism, displacement, poverty, food security and health, globalisation and trade, job creation, energy security and climate change, inequality including gender inequality, and digitalisation. Its Preamble says: "We are resolved to tackle common challenges to the global community…We will continue to work together with others, including developing countries, to address these challenges, building on the rules-based international order." The intention is surely pious reflecting the theme of the meeting: Shaping an Interconnected World. But it sounds vacuous when tested against what really transpired there. There was actually a backtracking from multilateralism, the right mode of addressing those challenges.
All the media analyses of the summit outcome that I have come across agree on one point: that it was more of bilateral parleys between friends and foes, than mini or plurilateral summitry. Sure, bilateral meetings are something one gets into the bargain in such settings, but this time they stole the whole show. Actually, the meeting convened in times of a waning trend in global cooperation and rising economic nationalism, led and fuelled by Trump's "America First" policy. This upswing in bilateralism has manifested in recent trade deals, with protectionism now likely to be reinforced by the agreed clause that recognises "the role of legitimate trade defence instruments." Trump's threats of disengagement from global commitments, his pull out from the Trans-Pacific Partnership just in three days of his presidency, his threat to scrap North American Free Trade Association, his pressure on the UK for bilateral trade deals, the EU trade deals with Canada in October and with Japan just the day before the G20 meeting began. The latest deal was more than symbolism just prior to the G20 meeting, that other nations and their trade exchanges are likely to survive and grow despite some pullouts by the mighty and the powerful.
The dishevelled collage comprised of a unilateralist America, a withdrawing Britain, a still-consolidating Macron, but avowed multilateralist, together with his elder soul-sister Merkel, a revisionist Russia, an increasingly conservative and authoritarian Turkey, and a not yet dominant China, with lesser powers trailing behind. 
Against this odd personal chemistry, raging violent street protests targeted uneven and runway market-led globalisation, resulting in worsening social outcomes in recent years. The perception that global economy serves the few than many has proven real. What do we see of globalisation after more than two decades? It's a form of financialised capitalism, riddled with cyclic crises, beginning in the 1990s in East Asia and spreading to Russia, Argentina, the US and Europe. Now investments flow more into trading in virtual assets, financial assets and their derivatives rather than in production of real goods and services. 
Many LDCs remain largely "off the map" of finance, both discursively and materially. Nobel Prize Economist Joseph Stiglitz, in his book The Price of Inequality (2012), shows that globalisation has increased inequality both within and between nations, who developed the thesis of "1% of the people, 1% by the people and 1% for the people." Just one number suffices to testify: only 400 persons in the US own assets more than the combined worth of 185 million US citizens. It is interesting to note that now about 80 percent of the global poor live in the middle income countries, such as China, India and countries of Latin America than in the LDCs.
A recent McKinsey estimate shows 45 percent of global working age population the world over is underutilised—unemployed or underemployed. Unless there is a redirection of investments in manufacturing and in other productive sectors, the desired job creation may not happen, and further rise of populist authoritarianism will continue to challenge the multilateral governance process. For right reasons, Merkel and Macron, the dynamic-duo led in adopting the Africa Partnership programme, only to combat poverty upstream in Africa to arrest the flow of mass migration to downstream Europe.
In hindsight, internationalists had the upper hand since the Second World War, with their profession of cooperation and multilateral institutions to promote global public goods like peace, security, financial stability, and environmental sustainability. These were shared norms and values that constrain Westphalian model of national sovereignty. But the end of 2016 witnessed an upscaling of views of realist bilateralists, who consider balance of major powers as the guarantor of peace and security. But this model favours the strong and further weakens the weak. Trumpism over Wilsonian and Roosveltian internationalism represents this downside. 
The global challenges mentioned in the Communique are actually more interrelated, synergistic, more sweeping in social effects than the ability of deregulated, market-led globalisation. So a new narrative on sustainable globalisation embedding the collective, multilateral and accountable policy designs are the need of the day, which the G20 representing just 10 percent of comity of nations cannot deliver. Whatever ways the existing multilateral institutions like the WTO, the UN or even the World Bank systems are regarded as imperfect, they at least have some kind of accountability and transparency in their operations. But minilateral clubs like the G20 lack any kind of such operational norms. Just about 10 members of the G20 cannot represent about 150 developing countries in such an exclusive functioning process. 
Obviously, holding on to centuries-old lens of sovereignty predicated on a zero-sum game in the global arena cannot deal with the emerging global challenges the Communique refers to. So a new type of what Igne Kaul calls "smart or pooled sovereignty" is needed. Joseph Nye cogently argues that while the US led in production of global public goods since World War II, now global cooperation is needed, because power has become a positive-sum game for achieving global goals. 
But at the moment we are in what political scientist Bremmer calls a "G-Zero World" where no one country can shape events. So the cacophony and discordance are likely to continue for some time until some better democratic, accountable and transparent multilateral mechanisms for shaping an interconnected world can be devised. 
---
Mizan R Khan is Professor, Environmental Management, North South University. 
---
Follow

The Daily Star Opinion

on Facebook for the latest opinions, commentaries and analyses by experts and professionals.
To contribute your article or letter to The Daily Star Opinion, see our

guidelines for submission

.
---