'Please forgive me…'
The other battles young people are fighting in this pandemic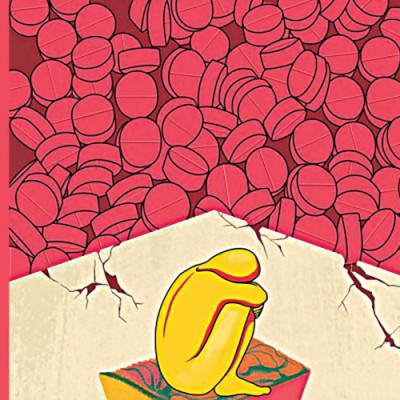 It reads like a Netflix blurb of a horror movie. A young man took a machete from a street coconut seller, uttered his last words: "please forgive me", and then slit his own throat in front of Dhaka Medical College Hospital. The body ended up in the morgue as an unidentified corpse, as everyone, including his friends, fled the scene after the outrageous turn of events. Once the mystery was unraveled, we were told that the young man was a student of the oldest university of the country, and at the time of the incident he was under the influence of a mind-altering narcotic substance, LSD. The investigation worm exposed the snake heads involving some top-notch private university students who were using international courier services to smuggle the drug soaked in highly absorbent "blotter papers."
I re-read the paragraph I just wrote and dreaded the combination of sensory information packed in it. All the places mentioned here are closely related to our personal identity: the universities in question and the hospital concerned. These are the physical spaces where we look for prospect and shelter. The places where we live and the experiences that we have define who we are. These physical surroundings with their aura of familiarity play an important role in creating a sense of order, meaning and stability in our lives. They are the sources of our daily activities and cultural rituals, which form the very fabric of our personal and social lives. We associate the university with education that will lead us to prosperity; we associate the hospital as a place that can heal us. But what happens when such realms of familiarity are changed and disoriented? How does it impact the feelings of comfort, predictability and security that we expect from a familiar setting?
You get down from a rickshaw and ask the coconut seller to hand you a green coconut to seek respite from the heat or the chores in hand. You haggle over the price a bit, complain about the price hike as an ever-evolving national plague while instructing the seller to give you a large fruit with sufficient sweet water and tender meat inside; you chide him for holding the mouth of the straw with his dirty hand as you proceed to gulp the fresh water. You have come to the campus to meet a friend or are here to visit a patient in hospital. Everything gives an impression of normalcy and familiarity.
A group of students are having a chit-chat nearby. You hear a mild heated discussion. One of them is slightly being rebuked for manhandling a disabled rickshaw-puller the day before. The words trigger him—he starts touching the feet of some rickshaw-pullers nearby, asking for their forgiveness, rushes to the coconut cart, grabs the machete, and butchers himself. You run as the blood of a young man gushes out like the water from a green coconut. Suddenly, the entire familiar landscape becomes unfamiliar, grotesque and morbid. You run and try to erase it from memory. But the newspapers reinforce it, and there is no escape from the violence.
The young man came back from his hometown after the Eid vacation, citing some errands that he had to run in the city. His trip led him to tripping. His eventual death like a sacrificial animal is reminiscent of the fatal cattle that are brought to Dhaka for consumption. What good is his death? What benefits have come out of this self-mutilation? What vision can we derive from this footnote of "tragedy" (the Greek word that literally means a "goat song")?
A ring of drug-dealers is exposed. The police have been prompt in arresting some suppliers. I see these young boys in their handcuffs, accused of peddling. They are no different from the boys I have in my classes. They look normal. It does not comfort you to know that these kids go to two different top-ranking institutions. Maybe they come from families that I know, or maybe I am even related to one or two! They are all our children: the one who died, and the ones who are being implicated for supplying the dead with the deadly drugs.
Is there any relationship between the pandemic and the drug use? The pandemic has caused people to become really stressed and isolated. Chances are: many will make unhealthy and unwise decisions. I cannot say it with certainty, as no research has been done in this respect. Was it peer pressure that led the young man to try out the blotter paper and lose full control over his senses? The guilt of abusing a disabled rickshaw-puller was heightened by the toxic chemical that was troubling his mind. His death has given us a lesson. Are we ready to learn from it? Or do we brush it aside as an exceptional freak show that has given us a momentary chill?
How about those other students? Did we tell them to be entrepreneurial without being ethical? What prompted them towards the cheap thrills of importing drugs and selling them with a five-time profit margin? What happens when we tell our students that they need to find their own jobs? The system cannot employ all the graduates who will come out of the universities. Start a start-up. Be your own employer. Be innovative. Be creative. Think out of the box. We copy and paste Youtube motivational speeches and chant inspirational mantras for the next generation. There is nothing organic about the skill-sets that we want them to acquire or the knowledge that we want them to have. We simulate, mimic and copy with no knowledge and understanding of the real.
Where did this toxic knowledge come from? Did these students get inspired by popular movies that glorify drugs? Did they watch Breaking Bad, Money Heist or Narcos? How much influence did popular media have on them planning their illicit businesses? Or did they grow up in broken families that lacked empathy or ethics?
If the death of the DU student is caused by mental illness or momentary lapses of reason, the lives of the other students are affected by social illness. Treating this incident as an isolated one will be foolish. Frustrations, anxieties and horror are creeping in and taking over the geographical, architectural and psychological spaces that we consider familiar. These familiar places are creeping us out by the uncanny behaviour of the people that we know. The import of LSD by courier is symptomatic of a subculture that is eating us from inside and turning the users into living-dead zombies. The public suicide of the young man is symbolic of everything that has gone wrong in all our familiar territories. He brought his insides out to expose us to the invisible enemies that we carry inside. We must tackle them head on. There is not much time to lose. Or else the next generation will never forgive us!
Shamsad Mortuza is Pro-Vice-Chancellor of the University of Liberal Arts Bangladesh (ULAB), and a professor of English (on leave) at Dhaka University.