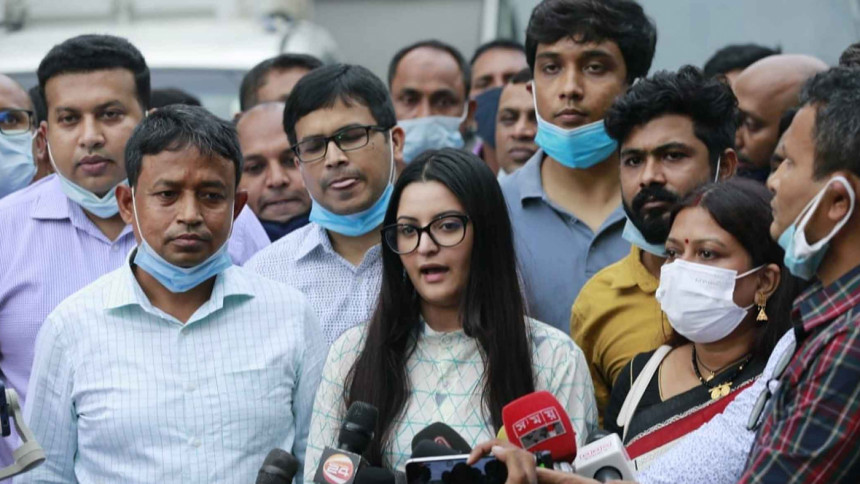 "I heard there were fairies down in the garden
Behind the trees and down in the garden
Walking on tip toes, waving their wands
Sipping on fairy tea, singing their songs
Can you see them?"
—From a children's song by Peter Combe 
Normally, you and I would not see fairies or hear them singing. They exist in a world where we fear (or do not care) to tread (anymore). Even if we do, we will not admit it in public. For instance, you have not heard me saying that I secretly went to the airport to see the landing of the majestic Concorde in the mid-80s. Sure enough, no one with better things to do will go to the airport just to catch sight of an iconic plane, right? Well, I was proved wrong then, and I am proved wrong now!
When fairies sing, they cleave the audience into two: believers and non-believers. Agnostics like me do not count. As the saying goes, you cannot be half-pregnant. Yet, the media tamasha attracted me to the tale of a fairy child, Pori Moni—a nom de plume, a stage name adopted by one of the boldest silver screen figures in our country. Frankly, I have stopped reading mainstream news for some time now. I rather read the comments section where the real news is. They are like the canaries in a mine: they help you detect the available toxic elements that can hurt humans. They tell you about social mobility—the rapid changes within or between the strata in a society where new categories are constantly being formed, reformed, and deformed.
Even people who can barely write are not afraid to express their opinions in public. Even people who see life with monocles are not afraid to share their tunnel visions in public terrain. Some of them use the media to solidify their group ideologies or to become public pressure groups. It would be interesting to analyse the relationship between the way these groups adopt new technology and use mass media and the way they construct certain ideologies (often conservative, patriarchal, and extreme right/left-wing). Their group formation and growth through social interactions is equally significant. It seems that there is a verbal army deployed to wage a proxy war against mainstream liberalism. They are prompt to react.
Once a bitesize saga of the Pori Moni affairs started making the rounds on social media, there was an outpouring of comments and tags. One group started critiquing her nocturnal lifestyle while the other group focused on pointing out the overall social, moral and cultural decadence involving the new moneyed class. There was a third group who used the comments threads to draw traction to a missing Islamic public speaker. If you ask me, if a facility is legally operated with the provisions for individuals to enjoy its services, we should not make a judgement call based on gender. Then again, if anyone is making a public nuisance, immediate actions must be taken. A celebrity cannot expect preferential treatment while vandalising property. By the same token, influential owners of the facility cannot physically harass a client and take matters into their own hands. A professional institution must have a protocol and mechanism in place to deal with rogue clients. I will not, of course, comment on an ongoing investigation. However, I shall highlight one of my concerns. Following the alleged abuse, Pori Moni called a press briefing at her place, where she hinted at something very alarming. She said that her life was under threat, and she suspected that her murder would be staged as a suicide.
Pori Moni, thereby, sang a dirge that was reminiscent of a young girl who killed herself following a phone call with a very influential businessman. The death of that girl, Munia, is another symbolic death of a canary in the mine shaft. Munia, as is now known, was interred into the dark chambers of life. Remember the cartoon involving a canary and a cat. The story reminds one of a cat that swallowed the canary, saying, "You'll be all right!" The news surfaced for a while before being buried alive. The comment threads mummified the dead woman as a "social climber" and "gold digger". In a media trial, the woman named after a small bird was marked as a fallen woman whereas the cat with his proverbial nine lives shifted to a second life. Again, if you ask me, we should not judge someone unless we have been in his or her shoes. As they say, better a debauched canary than a pious wolf. A quick look for the relevant verses in any of the respective holy books will remind the moral police of the pitfalls of judging others before judging themselves.
The comment threads in the last few days were equally buzzing with reactions to the action of the former captain of our cricket team. While playing for a club that has understandably fallen out of favour of the power centre, the sports sensation expressed his frustrations over some bad decisions of the field umpires. He acted like a bad manager fighting with his tools. He kicked at the stumps when a decision did not come in his favour; he obscenely placed the wicket before the legs of an umpire when a leg before wicket was not given; he verbally charged the umpires when they prematurely asked for the cover sheets to stop the play that would have handed the opponent a win under the D/L method.
Again, the comments were split. Some felt Shakib was the real hero stamping out the corruption corroding the cricket council (the pun on c, c, c, c is unintended), while others felt that as a senior player and role model, he should have been more responsible. Again, if you ask me, you can't soar like an eagle and crap like a canary. Shakib has taken our cricket to new heights—no question there. He has been the brand ambassador of our cricket, and the grateful country has reciprocated the gesture with love and admiration. He cannot spoil the gift by rubbing mud in the face of the people who love him. The people who have taken to social media in his defence mostly form a group that uses the instance to vent their frustrations with an over-controlling and overbearing system. Shakib is their canary in the coal mine.
The whistling of Shakib, by extension of Munia and Pori Moni, suggests how much oxygen is available in the shaft. The amount of toxicity suggests we must act fast to find the equilibrium.
Shamsad Mortuza is Pro-Vice-Chancellor of the University of Liberal Arts Bangladesh (ULAB), and a professor of English (on leave) at Dhaka University.