'Haven't we shown enough generosity?': PM asks BNP leaders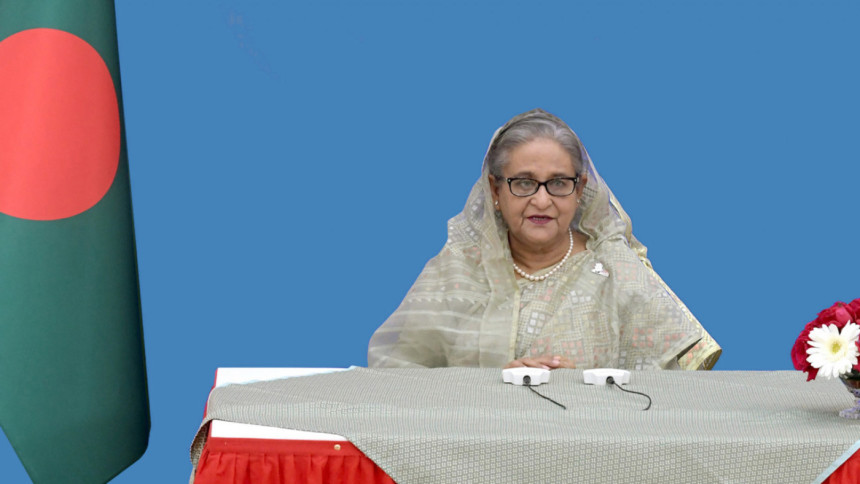 Referring to the demand of BNP leaders to allow Khaleda Zia's treatment overseas, Prime Minister Sheikh Hasina today said they have shown the highest compassion for the ailing BNP chairperson.
She asked: "What are they (BNP leaders) expecting from us? We have allowed her to stay at home and take treatment freely in the country's best hospital. Isn't it enough? Isn't it great generosity? What more (can I do)?"
She said this while addressing a discussion marking the 49th founding anniversary of Jubo League from her official Gono Bhaban residence in Dhaka via videoconference.
By allowing her to stay at home and avail the best treatment the country has to offer despite the fact that she was convicted for embezzling orphans' money and giving patronage to the killers of Bangabandhu, she has been shown enough compassion, the PM said.
She added that Khaleda deliberately celebrated her fake birthday on August 15, gave no scope for treatment of ailing political leaders, and made several attempts to take her (Hasina) life.
Hasina stressed the need for preparing the young with the spirit of the Liberation War and ideals of the Father of the Nation -- aimed at building a non-communal, knowledge- and science-based progressive society to lead the country towards development and prosperity, urging the Jubo League to take a leading role in this regard.
Sheikh Hasina, also president of Awami League, asked the Jubo League leaders and workers to devote themselves to serving the people and create a beautiful atmosphere for the future generations.