'Women worse off than men during disasters'
Says Saber Hossain Chowdhury at event marking Rural Women's Day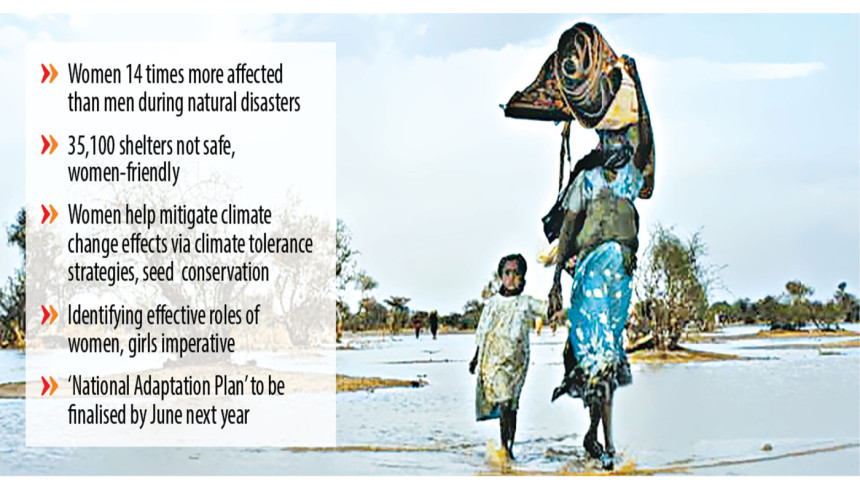 Bangladeshi women are 14 times more likely to be adversely affected during natural disasters than men, said lawmaker Saber Hossain Chowdhury.
"To uphold women's contribution in the fight against climate change, environment, forest and climate change ministry will finalise the National Adaptation Plan by June next year," said Saber, also chairperson of the parliamentary watchdog on the ministry. He made the comments at a webinar titled "Rural Women as Climate Actors", organised by Manusher Jonno Foundation (MJF) yesterday, as part of celebrating Rural Women's Day 2021.
At the event, Dr Fazle Rabbi Sadeque Ahmed, deputy managing director at Palli Karma-Sahayak Foundation (PKSF), said rural women do not only take care of homesteads during disasters but also play many active roles, including managing agriculture and livestock, and taking care of children, elderlies and persons with disabilities.
He also stressed on the importance of women-friendly disaster shelters, saying that although the country has 35,100 such shelters, they are mostly unsafe and not women-friendly at all.
MJF Executive Director Shaheen Anam moderated the event and said rural women are powerful agents of change. Their knowledge, skills, and innovative ideas have been found to be successful in combating impacts of climate change.
"Raising rural women's voices and helping them claim their rights have always been regarded as priority areas for MJF," she added.
Speakers said women have been playing an important role in mitigating effects of climate change by adopting climate tolerance strategies and doing seed conservation.
It is imperative to identify effective roles that women and girls are playing in addressing the risks of climate change, they added.
At the programme, several rural women from the grassroots shared their experiences and discussed how they play vital roles in taking care of their homes and families, preparing food, arranging drinking water, and preserving valuables, grains and seeds during and after disasters.
Dilruba Haider, programme specialist at UN Women Bangladesh; Tapan Kumar Biswas, director at NGO Affairs Bureau; Swedish Ambassador to Bangladesh Alexandra Berg von Linde; Judith Herbertson, development director at British High Commission; and Corinne Henchoz Pignani, deputy head of cooperation at Embassy of Switzerland; among others, spoke at the event.