Bangladesh needs to be self-sufficient in vaccine supply: Dr Firdausi
In interview with The Daily Star, she speaks on the need for Covid vaccine production locally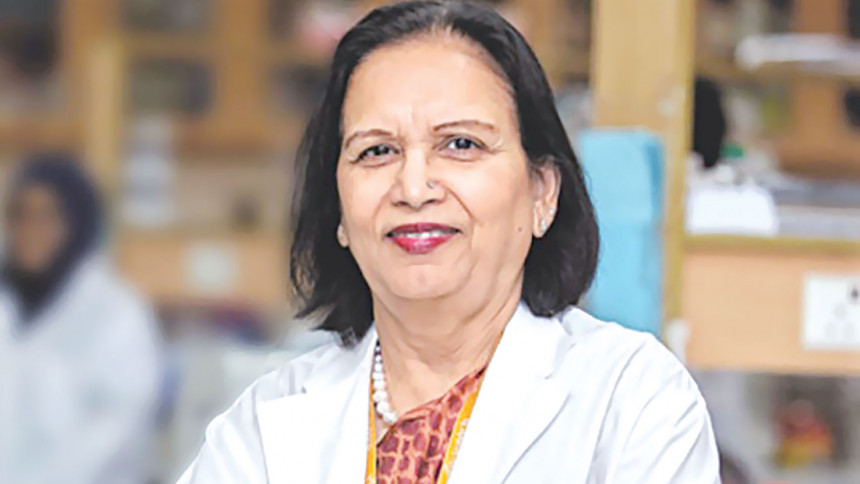 Bangladesh needs to attain self-sufficiency in vaccine supply as soon as possible to combat Covid-19 and any future public health emergencies, Ramon Magsaysay Award winner scientist Dr Firdausi Qadri has said.
"Today we are talking about Covid-19. Nevertheless, we know many diseases will emerge [in future]. As we are graduating to a middle-income country, we will not get vaccines at a lower price. So we have to be self-sufficient," she said in an interview with The Daily Star last week.
The scientist noted that there has been a lot of progress in the past six months to build necessary infrastructure for vaccine production locally, but the government has a lot to do to promote existing vaccine production infrastructures as well as build new ones.
Dr Firdausi is an emeritus scientist and Head of the Mucosal Immunology and Vaccinology Unit at the International Centre for Diarrhoeal Disease and Research, Bangladesh (icddr,b).
She served as a member of the World Health Organization's Strategic Advisory Group of Experts on Immunization (SAGE) from October 2016 to January 2021.
She won this year's prestigious Ramon Magsaysay Award, widely regarded as Asia's equivalent to Nobel Prize, for being instrumental in the development of vaccines, especially the Cholera vaccine that have saved millions of lives globally.
She will be conferred with the award at a ceremony on November 28 at the Ramon Magsaysay Center in Manila.
In the interview, Dr Firdausi also spoke about the role of private companies in vaccine production, shedding light on the future epidemics and preparation required.
She said despite the last six-month's progress, necessary measures were not taken before for which the scientists and public health experts have been advocating for.
"I think the initiative is there now. Nonetheless, those should be done faster," she said.
The noted scientist said that if the local companies could have come forward 10 years or even five years ago, the nation could get benefits during the Covid-19 pandemic.
"Making vaccines is expensive and building facilities is extremely expensive. I can, however, say that the private companies would get interested if we had the WHO prequalification," Dr Firdausi said.
The WHO prequalification is a prerequisite that enables the local pharmaceutical products, especially the vaccines, to enter the international market. As the Directorate General of Drug Administration (DGDA) has not got WHO prequalification, locally produced vaccines are yet to get the scope.
About getting prequalification, Dr Firdausi said that she is hopeful that Bangladesh will get the WHO prequalification soon as the process is underway.
"Global vaccine market is huge. But now only two local companies that are producing vaccines for internal uses. Once Bangladesh gets prequalification, local companies will be able to export vaccines in the global market."
Talking about the Covid-19, Dr Firdausi said, "We never thought this pandemic would be prolonged like this. We still cannot say the pandemic is over. We have to observe at least six more months."
Even after the Covid-19, the threat of other health emergencies is there as well, she said. "There are emerging and reemerging diseases with potential capacity to cause public health emergencies."
According to the scientists, emerging diseases include Nipah, HIV-AIDS, Tuberculosis (TB), HIV and TB Co-infections, Malaria, Diseases of Childhood, Diphtheria and Zoonotic Diseases like Hantavirus and West Nile virus.
On the other hand, re-emerging diseases that reappear after they have been on a significant decline include malaria, tuberculosis, cholera, pertussis, influenza, pneumococcal disease, and gonorrhea.
Replying to a query on how scientists forecast future epidemics, Dr Firdausi Qadri said, "The study on the spread of different pathogens is enough for this. Worryingly, climate change and rapid urbanization have started causing outbreaks of old and new infections worldwide."
For example, she said, Cholera is an old disease that is rising worldwide. She mentioned another emerging public health issue centering on antimicrobial resistance.
"Normal bacteria can become fully resistant to drugs. It is dangerous. Everyone around the globe is worried about it. As drugs are losing effectiveness, vaccines will be a major tool to fight this crisis."
She said there are around 15 different vaccines that are effective against different pathogens.
"When it comes to controlling infectious disease, vaccines come first. Treatment is very important, but prevention is better. If we can vaccinate people against major disease-causing pathogens, it would be much better," Dr Firdausi said.
Talking about the infrastructure to implement any immunization programme, she said, "We have a strong system, but we have a very large population as well, the deficiency has been in the collection of vaccines which is partially due to the developed countries securing more than what they needed. So there is no alternative to become self-sufficient."
Last week, the parliamentary standing committee on the health ministry said building a plant for bolting vaccines in Gopalganj would take one year, which earlier it had said would take six to nine months.
Asked what would be her advice to young researchers, Dr Firdausi said, "Being a researcher requires a strong concentration and life-long commitment. However, we have to set examples for the young researchers."
"I do not think our young scientists want a big amount of money. They just need a perfect environment for research," she said, adding that the government and the private sector have a role in investing more on medical research and modern infrastructure.