Road safety management barely held accountable
World Bank says before financing $360m project in Bangladesh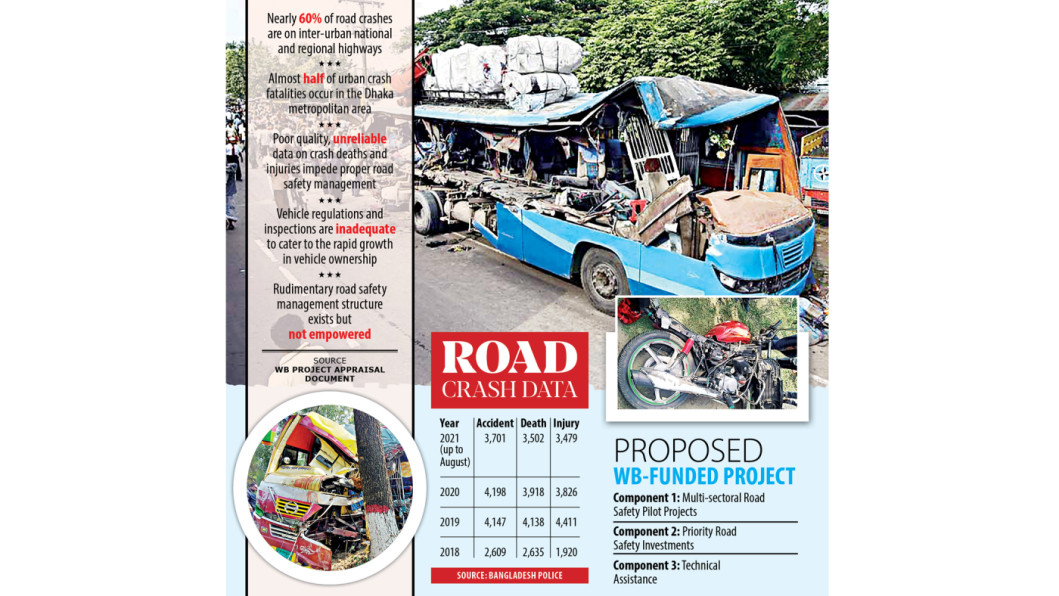 Different bodies exist in Bangladesh to ensure road safety, but they are not empowered and lack effective coordination to get expected outcomes.
These organisations are also not held accountable. Besides, the fund allocated for road safety action plans is insufficient, not prioritised, and has never been institutionalised.
These are the observations the World Bank made in an appraisal report prepared for financing a road safety project in Bangladesh, when an increasing number of people are being killed in crashes in the country.
The Roads and Highways Department (RHD), which will lead the multi-sectoral project worth around $360 million (Tk 3,086.54 crore), sent the Development Project Proposal to the Ministry of Road Transport and Bridges yesterday.
The WB will lend $300m of the total project fund.
The global lender in the report said the situation had been worsening in the past decades -- between 1990 and 2017 -- as the rise in the road crash fatality rate in Bangladesh was three times higher than that across the South Asia region.
Even the Bangladesh Police report, which is considered very conservative, finds the situation deteriorating further.
Its data shows a sharp rise in road crashes in the last few years though government agencies promised and initiated different steps after a major road safety movement in July-August 2018.
In November last year, the country witnessed another student agitation after two college students were killed in two crashes in Dhaka.
According to police, 2,513 people were killed in 2,562 road accidents in 2017 while 3,502 people lost their lives in 1,701 crashes in the first eight months of last year.
The WB report, available on the website of RHD, says nearly 60 percent of the road crashes take place on the national and regional highways.
"A substantial number of the highway crashes occur at 754 uncontrolled junctions of these highways and minor roads," it reads.
Citing another WB study, the report said halving the mortality and morbidity from road injuries in a developing country like Bangladesh would likely yield an additional 7-22 percent GDP per capita over the period of 24 years.
'NOT EMPOWERED'
According to the WB report, road safety management structure exists in Bangladesh but it is not empowered or held accountable for safety outcomes.
Established in 1995, the National Road Safety Council (NRSC) is responsible for preparing road safety strategies. It is comprised of Bangladesh Road Transport Authority (BRTA), police, RHD, transport owner and workers' associations, and professionals.
But the institutional arrangement has failed to coordinate effectively, it said.
The functioning of committees has been hampered by poor internal communication, a lack of coordination and integration between them and NRSC, and a scarcity of resources.
The report referred to the high-powered committee led by transport leader and former minister Shajahan Khan, which provided 111 recommendations to curb crashes and bring discipline in the transport sector.
A taskforce led by the home minister was also formed to implement those recommendations.
"However, the plan has some drawbacks, interventions and targets are not scientifically set, funding for proposed activities is lacking or inadequate…"
Prof Hadiuzzaman, director of Accident Research Institute of Buet, said such committees or bodies lack professional persons.
Either influential persons or ex-officio persons dominated such bodies, when road safety is a technical issue that has to be dealt with by professionals.
Directives to ensure road safety often comes from the higher authorities but those remain unimplemented with no one held responsible for the failures, he said.
FUND INSUFFICIENT
The WB report said the fund RHD, BRTA and police got for road safety was insufficient and not prioritised.
Yet, the report, citing another WB analysis, said Bangladesh would require an estimated additional investment of $7.8 billion over the coming decade to achieve the SGD goal of halving road accidents.
Prof Hadiuzzaman said the government has taken many mega projects in the transport sector to ease traffic congestion and improve connectivity.
"But such projects lack necessary planning and funding to ensure road safety," he said.
Contacted, Road Transport and Highways Division Secretary Nazrul Islam said he was not aware about the appraisal report of WB.
"But they [the World Bank] have recommended forming a committee for better coordination, and we are considering it," he told The Daily Star last night.
Regarding empowerment of different bodies concerned, he said this is not an issue if everybody performs their duties properly.