'Food, health and prosperity for all'
Hasina places 5 proposals to deal with Covid impacts on public health, nutrition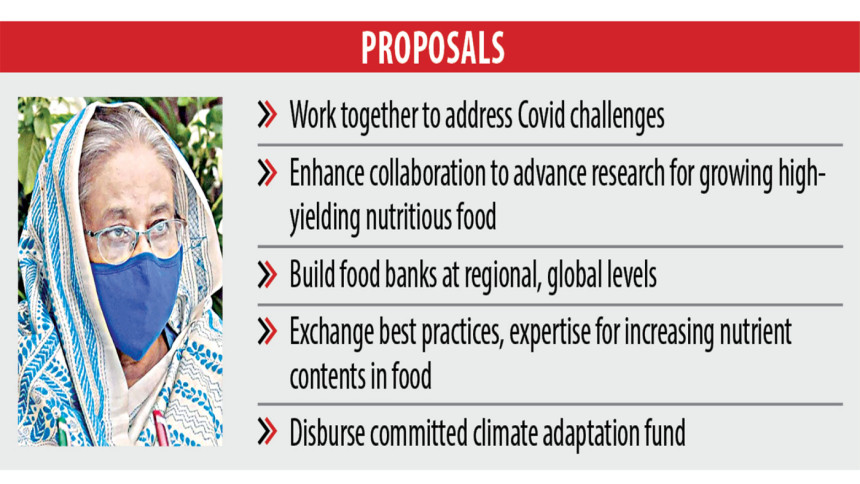 Prime Minister Sheikh Hasina yesterday stressed the need for taking urgent steps collectively to address the Covid-19 challenges and its impacts on public health and nutrition.
Hasina said this while addressing the Nutrition for Growth Summit (N4G), Japan virtually.
Prime Minister of Japan Kishoda Fumio also spoke at the summit -- "Food, Health and Prosperity for All".
Hasina placed five proposals before the world for ensuring healthy and nutritious diets for the growing population.
The international community needs to work together to address the challenges of Covid-19, including its impact on nutrition programs, the PM said in her first proposal.
She also called for enhancing collaboration to advance research for growing high-yielding nutritious food and building food banks at regional and global levels.
Hasina stressed the importance of exchanging best practices and expertise for increasing nutrient contents in food
Finally, she asked the developed nations to disburse the committed climate adaptation fund to adapt to the climate-led extreme events that hamper food production in the developing world.
Hasina said ensuring nutrition for all citizens is a daunting task. But, she said, investment in nutrition security generates high socio-economic returns leading the way to sustainable growth and development.
The PM said Bangladesh has made great achievements and substantial progress in economy, food security, health and nutrition during the last one decade.
She mentioned that allowances have been introduced for vulnerable groups under social safety-net programmes. She also said midday meals were introduced for school students.
Hasina said the poverty rate in Bangladesh came down to 20.5 percent from 31.5 during the past one decade.
The PM said stunting of children decreased from 43 percent in 2007 to 31 percent in 2017, which is now below WHO critical threshold.
The N4G Summit is being held in Tokyo under the auspices of the Japanese government. The summit is bringing together stakeholders across sectors to generate financial and political commitments to nutrition, focusing on the critical roles of food, health and social protection systems.