Army chief returns from South Korea visit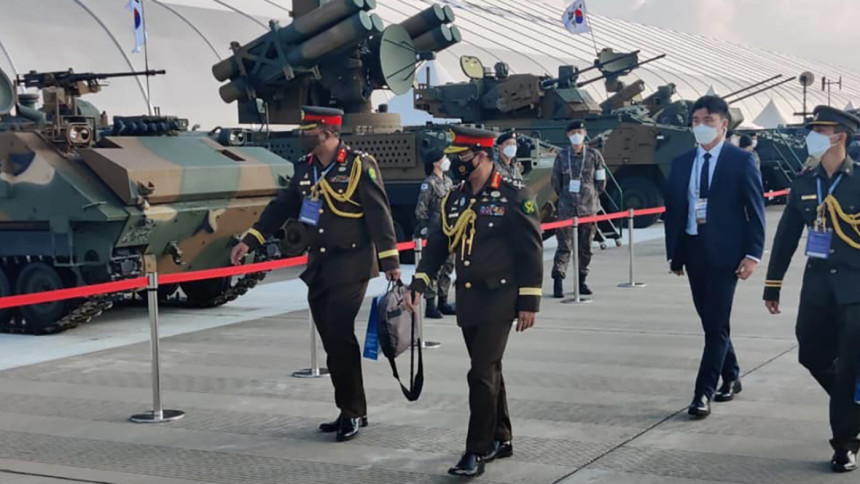 Chief of Army Staff of Bangladesh General SM Shafiuddin Ahmed returned to Dhaka today from his visit to South Korea, Inter Services Public Relations (ISPR) said in press statement.
During his visit, General Shafiuddin made a courtesy call on Chief of Staff of the Republic of Korea Army General Nam Yeong-shin on October 19. They discussed possibilities to take the existing relations between the armed forces of the two countries further.
The army chief later attended two military exercises titled 'Army Tiger 4.0' and 'Warriors' Platform', and different stalls at the Seoul International Aerospace and Defence Exhibition (ADEX)-2021.
General Shafiuddin also met and exchanged views with South Korea's Minister of National Defence Suh Wook, Army Chief General Nam Yeong-shin, Commander-in-Chief of the Angolan Armed Forces General Jaque Raul, and Commander-in-Chief of the Russian Ground Forces Oleg Leonidovich Salyukov, among others.
On October 20, General Shafiuddin attended an air show in honour of the President of South Korea Moon Jae-in at ADEX-2021and visited different stalls of military equipment at the exhibition.
He also attended a cultural tour organised by the South Korean tourism organisation on October 21 and visited different historical sites in Seoul. On the same day, he attended a dinner held at Bangla House in his honour and exchanged views with Ambassador of Bangladesh to South Korea Md Delwar Hossain.
The army chief's visit to the ADEX-2021 exhibition is expected to shed light on the enhancements necessary for the Bangladesh Army towards implementing its Forces' Goal 2030, the ISPR release added.