Brace for Omicron
Warns WHO, says vaccination, not travel curbs, key to battling the Covid variant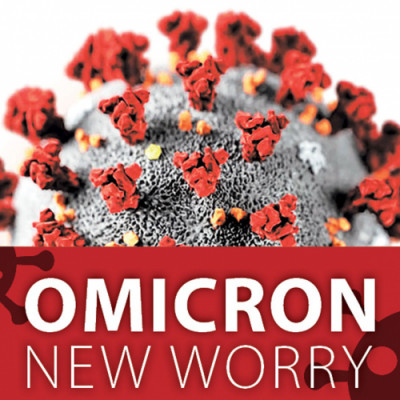 The World Health Organisation (WHO) yesterday urged countries to boost healthcare capacity and vaccinate their people to fight a surge in Covid-19 cases driven by the Omicron variant, saying that travel curbs could buy time but alone were not the answer.
Despite shutting its borders to travel from high-risk southern African countries, Australia became the latest country to report community transmission of the new variant, a day after it was found in five US states.
Omicron has gained a foothold in Asia, Africa, the Americas, the Middle East and Europe and has reached seven of the nine provinces of South Africa, where it was first identified. Many governments have tightened travel rules to keep the variant out.
"Border controls can buy time but every country and every community must prepare for new surges in cases," Takeshi Kasai, the WHO's western Pacific director, told a media briefing.
"People should not only rely on border measures. What is most important is to prepare for these variants with potential high transmissibility. So far the information available suggests we don't have to change our approach."
Kasai urged countries to fully vaccinate vulnerable groups and stick to preventive measures such as mask wearing and social distancing.
Omicron has been listed as a "variant of concern" by the WHO and scientists are still gathering data to establish how severe and contagious it is just as parts of Europe have been hit by surges of winter infections by the more familiar Delta variant.
"I have not seen reports of Omicron-related deaths yet," WHO spokesman Christian Lindmeier told a UN briefing in Geneva.
But vaccine makers should prepare for the likelihood of adjusting their products to protect against Omicron, he said.
WHO's chief scientist Soumya Swaminathan yesterday urged people not to panic over the emergence of the Omicron variant and said it was too early to say if Covid-19 vaccines would have to be modified to fight it.
Speaking in an interview at the Reuters Next, Swaminathan also said it was impossible to predict if Omicron would become the dominant strain.
'COMMUNITY SPREAD'
A preliminary study by researchers in South Africa, where the new variant was first reported on November 24, suggests the strain is three times more likely to cause reinfections compared to the Delta or Beta strains.
Doctors there said there had been a spike in the number of children under five admitted to hospital since Omicron emerged, but stressed it was too early to know if young children were particularly susceptible, although infections have spread faster than in previous waves.
Nine cases have been confirmed in France and 10 in the United States. One case each in Hawaii and Minnesota involved residents with no recent international travel history -- showing that Omicron is already circulating inside the country.
"This is a case of community spread," the Hawaii Health Department confirmed.
US President Joe Biden on Thursday unveiled his plans to battle Covid-19 during the winter, with new testing requirements for travellers and a surge in vaccination efforts.
All incoming travellers will need to test negative within a day before their flights, and rapid tests that currently cost $25 will be covered by insurance and distributed free to the uninsured.
In Norway, officials said at least 17 people who contracted Covid-19 after an office Christmas party in the capital Oslo last week are suspected of having the Omicron variant, reports AFP.
Malaysia yesterday reported its own first Omicron infection in a foreign student arriving from South Africa on November 19. Sri Lanka also announced its first case, a citizen returning from South Africa.
German politicians have agreed measures including a blanket ban on bars, restaurants and cinemas for anyone who is unvaccinated or not recovered.
In northwest Italy, a man presented health workers with a fake arm in an attempt to obtain a vaccine certificate without having the jab, an official said yesterday.