Untimely rain damages crops on vast areas across the country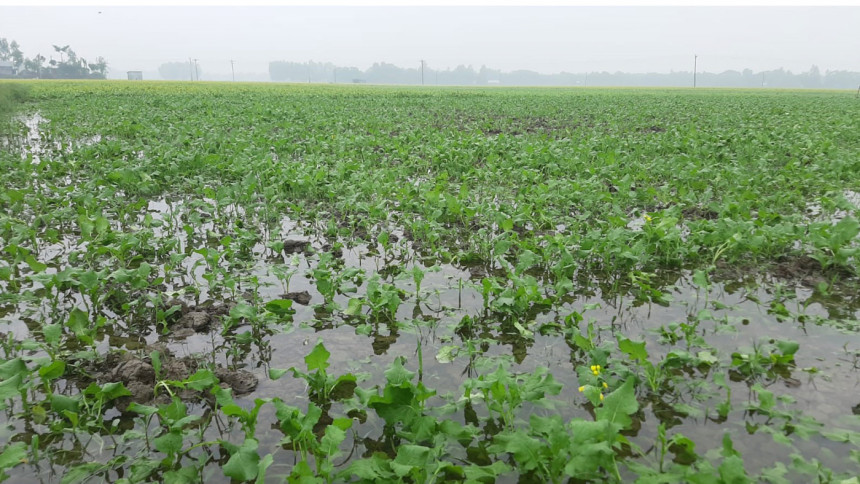 Crops, especially winter vegetables, on vast areas have been damaged due to the untimely rain that lashed different districts across the country in the last three days.
Many growers, who were taking preparation to harvest their vegetables, are now in fear of incurring losses.
The damaged crops include Aman paddy, Boro, different winter vegetables, fruits, spices and pulses, said the affected farmers and officials at Department of Agricultural Extension (DAE).
"Light rain is likely to occur at one or two places in Dhaka, Barishal, Sylhet, and Chattogram divisions. The weather may remain mainly dry with partly cloudy sky elsewhere across the country," according to a government weather bulletin yesterday.
Our Khulna correspondent reported that around 70 percent of Aman paddy, cultivated on about 93,170 hectares of land have gone under water.
DAE said of the 70 percent crops on vast areas have already been damaged.
Moreover, different vegetables on nearly 12 hectares of land in the district have been badly affected by the rain water.
"I cultivated Aman on 13 bighas of land, but about 20 percent of the paddy have been completely damaged," farmer Prabir Roy of Khalishibunia village in Batiaghata upazila said.
"Due to the stagnant water caused by the untimely rain cultivation of the next crop will also be hampered," Khulna DAE Deputy Director Hafizur Rahman said.
In Patuakhali, standing crops on around 3,000 hectares of land have been damaged due to the rain in the last few days, reports our correspondent. 
Patuakhali DAE Deputy Director AKM Mohiuddin said further damages can be avert, if water recedes quickly otherwise the extent of loss will keeping increasing.
Our Faridpur correspondent reports, crops and vegetables on vast areas have been damaged due to the untimely rain.
"I cultivated grass pea on 53 decimals of land, spending Tk 45,000. The untimely rain has damaged most of my crops," said farmer Sheikh Sorman of BS Dangi village in Charbhadrasan upazila.
Faridpur DAE Deputy Director (DD) Hazrat Ali said they will distribute seeds and fertilizers among the affected farmers at free of cost.
In Pirojpur, Aman paddy on around 61,630 hectares of land have been damaged by the rain, according to the officials at DAE.
"Almost all the paddy fields in our area have gone under knee-deep water. We fear that around half of the paddy have been already damaged," farmer Abdur Rahman of Chalisa village in Sadar upazila said.
Pirojpur DAE DD Dr Mohammad Nazrul Islam Sikder said the rain has not only damaged paddies, it also causing fodder crisis.
Away in Manikganj, crops on around 20 hectares of land have been badly affected by the rain.
While visiting Dighi, Natun Basati, Koyra and Chhutibhatbaur village in Sadar upazila yesterday this correspondent saw farmers were trying to remove water from their croplands using different methods.
Besides, standing crops on nearly 60,000 hectares of land have been damaged in different upazilas of six districts under Barishal division, said Toufiqul Alam, DD at Barishal DAE.