'We want strong co-operation from Actors Equity Bangladesh'
Actors Equity Bangladesh arranged its annual general meeting for 2021 at the National Theatre Hall of Shilpakala Academy, yesterday.
Members of Actors Equity Bangladesh, among others, participated in various lively discussions and cultural programmes throughout the day-long celebrations at Shilpakala Academy.
State Minister for Information and Broadcasting Dr Murad Hasan, eminent actor and Member of Parliament Asaduzzaman Noor and playwright Mamunur Rashid inaugurated the programme by lighting a 'pradip' in the morning.
Dr Murad Hasan expressed his excitement on inaugurating the programme.
"I am really happy that I am inaugurating the programme. All of you have millions of fans and I wish all of you have a successful career ahead of yours," he mentioned.
Playwright Mamunur Rashid said, "I have dedicated my whole life towards serials and tele-fictions. All of us artistes want to live with love and respect. I am really happy that Actors Equity and Film Artists Welfare are associated together."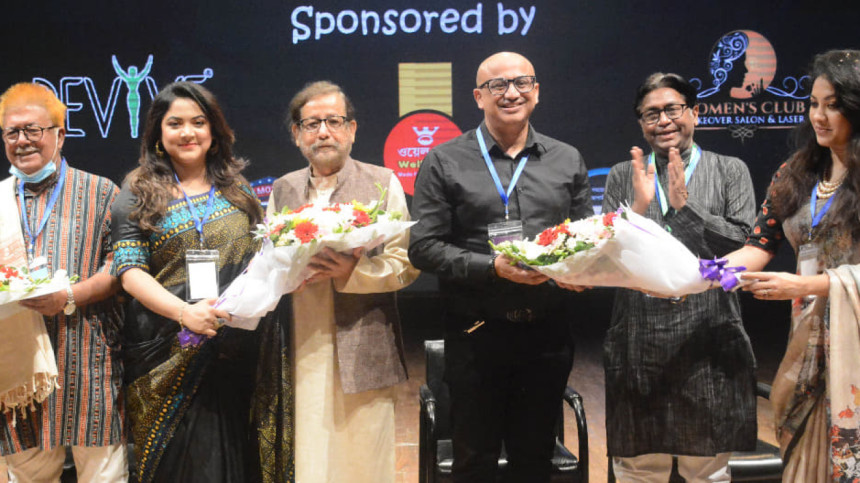 In the presence of two-thirds of the members, the bill of the finance secretary, the report of the general secretary and some of the proposed articles of the constitution were passed.
 The Election Commission was formed yesterday. The six-member committee comprises Khairul Alam Sabuj as the Election Commissioner and Mamunur Rashid as the head of the Appellate Division will organise the elections in the next three months. The new committee term will also be extended by one year so that they will be able to be in power for three years.
Meanwhile, the cultural program started in the afternoon. Dr Hasan Mahmud unveiled the organisation's website as the chief guest in the evening.
 Information Minister Hasan Mahmud said, "The government has done a lot of things for the artistes. Our Film Artists Welfare is a wonderful initiation and we are always going to look out for our actors".
He also added that he was a member of Chattogram's theatre troupe "Tirjog".
Dr Murad Hasan, playwright and actor Mamunur Rashid, actors Alamgir, Tariq Anam Khan, Salahuddin Lavlu, and special assistant to Prime Minister Sheikh Hasina Biplob Barua, among others, were also present at the stage.
Actor Alamgir also gave a speech during the event. "Although I am a film artiste, I am still part of the Actors Equity Bangladesh It feels great to be part of such a wonderful gathering. All of us artistes are one big family," added the actor.
The cultural programme was hosted by host and actor Sazu Khadem. The programme started with the dance performance of Ashna Habib Bhabna on Rabindra Sangeet.
Documentaries on three veteran artistes were showcased on the big screen. The documentary on Mamunur Rashid and Dilara Zaman were made by Sujat Shimul while the documentary on Masuda Ali Khan was created by Rajib Salehin.
Actress Tarin sang a duet "Mon Shudhu Mon Chuyeche" with Dr Murad Hasan. Prominent actors Chanchal Chowdhury, Fazlur Rahman Babu. Information Minister Dr Hasan Mahmud and State Minister Murad Hasan as a token of gesture were made 'symbolic members' of Actors Equity Bangladesh.
Prominent actor Tariq Anam Khan addressed the Information Minister Dr Hasan Mahmud regarding the ongoing censorship debacles.
"We want to see a Bangladesh where we can work and talk without any fears. A free state where the new generations can speak the truth. We are bound with the shackles of censorship; a sense of self-censorship has been embedded in our hearts," mentions the National Award-winning actor.
"Whenever we recite a dialogue, we are scared as to who might get offended by it," adds the actor.
Members of Actors Equity Bangladesh also put forward their demands towards the outgoing committee.
"Mosharraf Karim, Faruk Ahmed, and I have been imposed with a 50 crore defamation lawsuit by a lawyer in Cumilla. The complaint stated that we were offending lawyers with our dialogues. Now please tell us which characters we should play and which not," mentions actor Jamil Ahmed.
Playwright Brindabon Das also demanded support from the organisation regarding freedom of speech.
"We want strong co-operation and support from the organisation to showcase injustice in society through our work and characters," he said.