Remembering Aly Zaker, the 'Galileo' of theatre
Today marks the first death anniversary of screen legend and thespian Aly Zaker. He passed away after battling cancer for four years.
The gifted actor gave us numerous memorable characters including Galileo, Dewan (Dewan Gazir Kissa), and Dr. Asgor (Aaj Robibar), among others.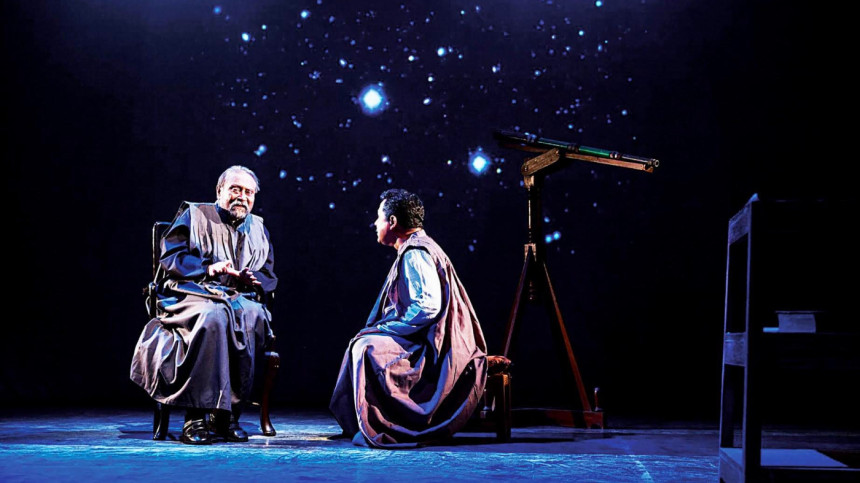 November 6 marked his 77th birth anniversary. In order to honour his lifelong philosophy and his numerous creations, Mongol Deep Foundation, along with his family, took the initiative to launch "Batighor", an archive of Aly Zaker's creative works, a website, and a grant programme to help young talents.
 The "Aly Zaker Sanman Padak 2021" was also conferred on November 12 to noted cultural personalities Ferdousi Majumdar and Mamunur Rashid, to commemorate the late thespian.
Aly Zaker was born on November 6, 1944, in Chattogram to Muhammad Taher and Rezia Taher.
He was the third among four siblings and spent his early childhood in Kushtia and Madaripur. His father was a high-ranking government official, who transferred every few years.
He studied at Notre Dame College and graduated from the University of Dhaka.
During the Liberation War, Aly Zaker trained at Sector 8 under Major General Manzoor, but Alamgir Kabir asked him to urgently join them at Shadhin Bangla Betar Kendra. He travelled to the front many times after to do interviews, and was an important part of Shadhin Bangla's English broadcasts.
Aly Zaker's first appearance on stage was in the play "Kabor," arranged by Aranyak Natya Dal. When he joined Nagorik Natya Sampradaya, he famously worked in plays like "Galileo," "Dewan Gazir Kissa," "Nurul Diner Shara Jibon", "Macbeth," among many others that made him the most famous stage actor of his time.
He also played memorable characters for TV and directed stage plays. On television, his most memorable roles were in "Aaj Robibar" and "Bohubrihi." Aly Zaker mesmerised the audience, in his long career by playing versatile and memorable characters for which he would always be remembered. He is the recipient of the prestigious Ekushey Padak (1999), Selim Al Deen Padak (2017), and the Shaheed Altaf Mahmud Padak (2017).
The actor was also able to etch a name for himself in the world of business by creating Asiatic JWT, one of the most prominent communications agencies in Bangladesh.
In 1975, Aly Zaker married theatre personality, entrepreneur, and social activist, Sara Zaker. Together they have raised two children, Iresh Zaker, and Sriya Sharbojoya.