'Mayar Jonjal', featuring Aupee Karim, to premiere at DIFF in January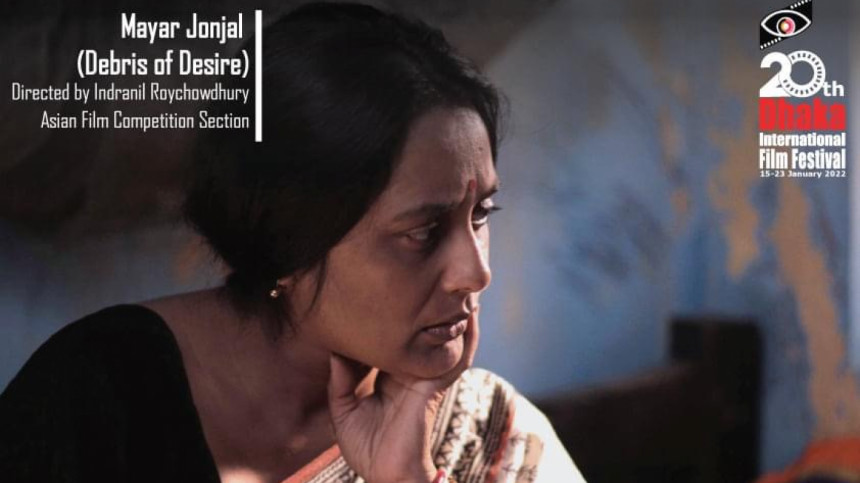 The Bangladesh-India joint venture "Mayar Jonjal" (Debris of Desire) has garnered appreciation on multiple international platforms upon screening, and was also honoured with accolades around the globe. The film is now set to premiere in Bangladesh at the Dhaka International Film Festival (DIFF) in January.
The production is the only selected project in the Asian cinema category of the festival. Produced by Josim Ahmed from Bangladesh and directed by Indian filmmaker Indranil Roychowdhury, the film marks the comeback of renowned actor Aupee Karim on the silver screen after 15 years.
The project also features celebrated Indian actor Ritwick Chakraborty, Shohel Rana (Satya) from Prachyanat theatre troupe in Bangladesh, Chandreyee Ghosh (Beauty) from Kolkata, Minister in Charge of Information & Technology & Electronic Department, Government West Bengal Bratya Basu (Ganesh Babu).
"We received an uncut clearance for the censor board last year but had to hold the release due to the coronavirus pandemic," shares producer Josim Ahmed. "We will release the film commercially after it premieres at the festival in Dhaka. I invite all my well-wishers to come to the festival to enjoy Mayar Jonjal."
Mayar Jonjal first premiered at the 23rd Shanghai International Film Festival. It was officially selected for screening at Moscow International Film Festival (MIFF).
The film has won the Jury Award for Feature Film out of the 8 films from the official selection in the 21st Asiatica Film Festival (Asiatica - Encounters with Asian Cinema), in Italy and the Best South Asian Feature Film award in the Arthouse Asia Film Festival, held in Kolkata.