Azim sold our car in order to help freedom fighters: Sujata
Sujata remembers the legendary Azim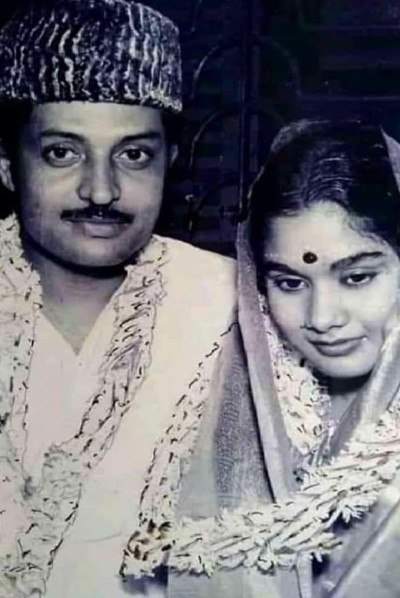 Ekushey Padak and Bangladesh National Film Award-winning actress Sujata has been one of the most celebrated artistes of her time. Apart from being a tremendous actress, she is also known as the better-half of legendary actor Azim. In a candid chat with The Daily Star, this "Rupban" famed actress shared anecdotes of her husband during the liberation war.
Azim was one of the legendary Bengali actors of the black and white era, who has gifted many beautiful films to the industry. Apart from being an actor, he was a producer as well. He was a freedom fighter, who was also tortured by the Pakistani army during the liberation war.
For the sake of helping the other freedom fighters, he even sold the car that he had given to his wife as a wedding gift.
"Azim had a very generous heart. No one returned empty-handed from him," shares Sujata.
Sujata also added that sometimes, even she was unaware of the charities that Azim used to do for people.
Azim belonged to an influential family and was restless in wanting to extend help towards the freedom fighters.
"During the 60s, he used to go to his shoots via his personal car. There had been very few people who used to travel using their personal cars at that time," said Sujata.
"After our marriage, when my mother-in-law asked him, 'what have you gifted to my daughter-in-law?' He just laughed," says Sujata. "He actually gifted me a car after our marriage, which costed 25,000 Taka at the time."
"The country comes first, we can have as many cars as we want if we can survive," Azim had said after he donated most of his possessions for the cause.
"That is when I realized how much of a patriot he was," shares Sujata. "However, he got caught by the Pakistani army soon and was kept hostage for 2 months. He even went through a long series of torture."
After he was held hostage for 2 months, the family finally could rescue him. "Coming out from there, he kept saying that he, alongside 52 other people, were brutally tortured by the Pakistani army," says Sujata.
Even after being freed after torture, Azim did not hesitate to extend his help towards the freedom fighters.
"That's the kind of love and respect he had for his country," smiles a nostalgic Sujata.  
The actor was respected by everyone in the industry. "I have witnessed it with my own eyes, how his arrival at the FDC used to create chaos among people there, as everyone stood up out of respect and said 'Azim sir has arrived". said Sujata.
Azim used to treat actor Jashim as his own son and adored him a lot. Jashim, too, had profound respect for Azim in his heart, according to Sujata.
"He neither belittled anyone nor hurt anyone's feelings through his words -- Azim was not only my co-actor on the silver screen, he was the ideal partner in real life as well," said Sujata.
Translated by Rafsana Amin