50 bands collaborate in BAMBA's historic celebration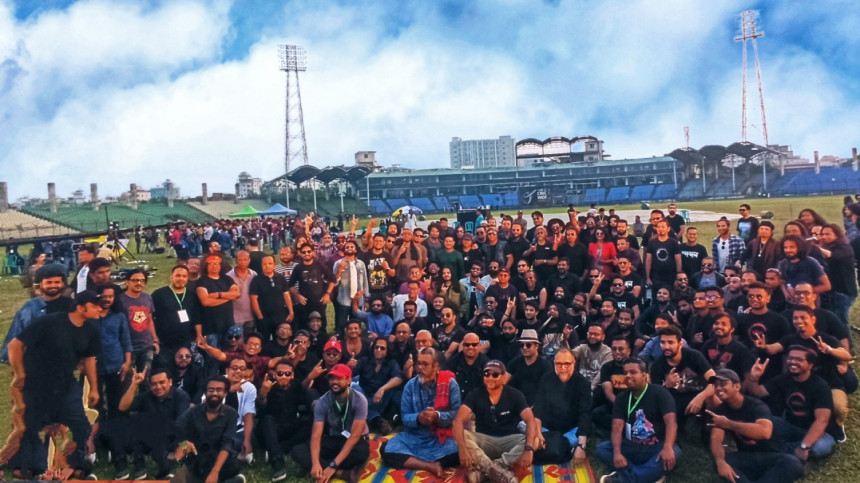 To celebrate 50 years of our independence, Bangladesh Musical Bands Association (BAMBA) has brought together 50 prominent and promising together for "Priyo Bangladesh".
The song is composed by Naquib Khan, and has been penned by Shahan Kabondho. Manam Ahmed has arranged the music for the number, which has been recorded at Bappa Mazumder's studio.
Spearheaded by the executive committee, the production will feature members of BAMBA, including some of the most celebrated bands in the country.
BAMBA had decided to compose such a number during a casual video conference. "We used to reunite digitally during the pandemic, and that is when we had come up with this idea in May," mentions famed musician Hamin Ahmed, the frontman for Miles.
"Band music had begun shortly after the liberation holding the hands of bands like Uccharan and Spondon. We want to carry forward the legacy of the pioneering trend setters like Azam Khan, Ayub Bachchu, Happy and Lucky Akhand, and thus decided to work on this homage," he adds.
Arranging and coordinating such a vast array of performers was not an easy task for BAMBA. "It took a lot of hard work and planning. However, we were finally able to execute this plan as a team," shares Hamin Ahmed.
The music video for this production, done by Gazi Shubhro of RED dot, has been shot at Khan Saheb Osman Ali Stadium. 
BAMBA plans to release this song before December 16. "We will release it online first, and then release in on other mediums," concludes Hamin Ahmed.