IDLC, Prothom Alo honour SME entrepreneurs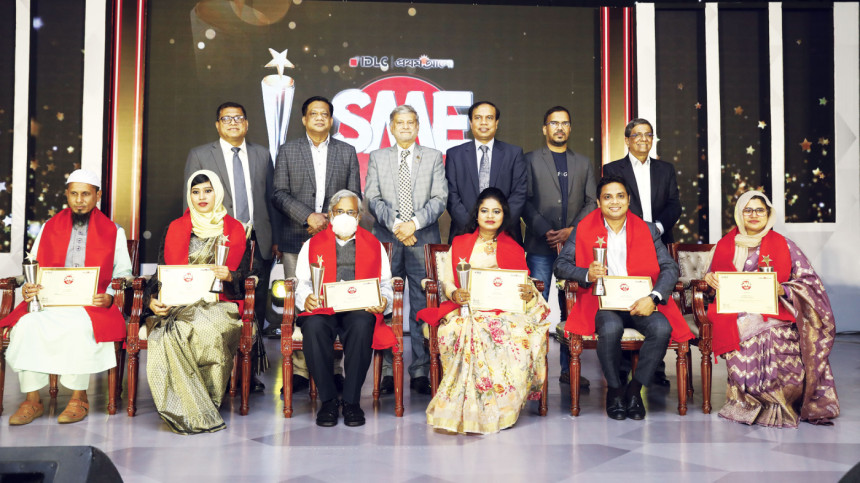 IDLC Finance Ltd and the Prothom Alo yesterday awarded six SME entrepreneurs for their outstanding contribution to the economy through tireless work and dedication.
Planning Minister MA Mannan handed over the IDLC-Prothom Alo SME Award 2021 at a programme at the Pan Pacific Sonargaon Hotel in Dhaka. IDLC Finance Ltd Managing Director M Jamal Uddin and Prothom Alo Editor Matiur Rahman were present.
Out of 1,100 nominations, the jury panel named the six best entrepreneurs in six categories: education, agriculture, health, manufacturing, best women entrepreneur and a special award.
Khondkar Siddique-e-Rabbani, founder and president of Bi-Beat Ltd, received the award in the health category. He was awarded for leading efforts in innovating technologies that are being used in the healthcare sector.
One of the equipment is the negative pressure isolation canopy, which is preventing doctors and healthcare workers from getting infected by the coronavirus in hospitals, according to a booklet published by the award organisers.
Bi-Beat has also produced a positive pressure isolation canopy, the first of its kind in the world. It is used in keeping patients in the burn unit safe from outside infections. 
Md Monir Hosen, founder and CEO of Creative IT Institute, received the award in the education category. Set up in 2008, it has developed the skills of more than 50,000 youths.
Over 5 lakh youths have received IT-related career guidelines.
Razia Sultana, managing director of Raiyan Agro Link, got the award in the agriculture category for her success in setting up farms in Ashulia, Manikganj and Haluaghat in Mymensingh that sell vegetables and flowers in the capital.
She has also set up a Facebook group where potential entrepreneurs can receive training. Thanks to the platform, which has more than 5 lakh members, people can buy quality saplings, pesticides and fertilizer. 
Kamrunnahar Khanam, managing director of Nababi Footwear Ltd, became the Best Woman Entrepreneur in recognition of her work to produce specialised fashion shoes, slippers and sandals from jute and jute-made fabric.
She set up a factory at the BSCIC Industrial park in Netrokona in January 2018 and began producing footwear products from jute. When she faced with the shortage of skilled workers, she starting training them. Now, 66 workers are employed at her factory. 
The factory also makes bags, ornaments, covers, mats and floor mats. The products are exported to France and Spain.
Md Ole Ullah, owner of Janata Engineering, was awarded in the manufacturing category. The company makes about 40 types of farm machinery such as tractors, power tillers, seeders, bed planters, and combined harvesters and they are used across the country. His three factories currently employ at least 60 people.
Inspired and trained by Ole Ullah, at least 86 people from Chuadanga, Cumilla, Chattogram, Faridpur, and Jhenaidaha are manufacturing farm machinery. The entrepreneur employs 10 to 12 people.
Rehana Akter, owner of Clay Image, received a special award for her work to produce kitchen-wares from clay and other ceramic materials. Her products are exported to 30 countries and she employs 70 workers.
Speaking at the ceremony, Planning Minister MA Mannan congratulated the winners. He said that SMEs had played an important role behind the country's development success.
He said: "There was a time when I used to hear only stories about failures of Bangladesh. Now it is fairly said that Bangladesh has turned around. Wherever I go, I can only hear the success stories."
M Jamal Uddin said small and medium enterprises are the backbone of the economy.
"We have been working with entrepreneurs in this sector for a long time. If we can encourage the entrepreneurs to do better, they will be able to play a greater role in the development of the country."