SERIES REVIEW
A story about the painful reality of South Korea's military men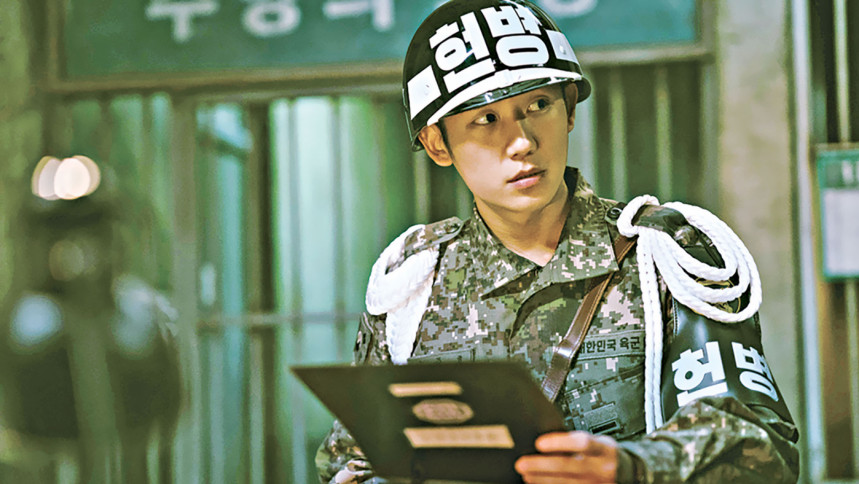 "D.P.", the South Korean, webtoon-based series released on Netflix,  is a fresh take on the kind of absurd realism which is revered in the Oscar- winning movie, "Parasite". With that being said, the similarity between the two ends there. "D.P" is arguably one of the most critically acclaimed K-dramas this year, and for very good reasons.
It stars notable South Korean actors like Koo Kyo-hwa, Jung Hae-In, and Cho Hyun Chul. The show is primarily about two characters being appointed spots in the military under the 'D.P. unit', also known as Deserter Pursuit Unit, when it comes time for them to complete their duration of Conscription, or compulsory military service. Cho Hyun Chul plays the part of deserter Cho Suk-Bong.
Over the years, the questionable situations or stories associated with Conscription have had to lessen due to increasing revolt towards the atrocious acts of bullying. Jun-hee Han, the director and writer of the series, claims that several plot points of the series were inspired by real-life events while a recurrent South Korean Army Lieutenant General claimed that the incidents are a thing of the past.
According to two South Korean YouTubers from DKDKTV, who are done with their military services, only the first episode felt relatable while the remaining five episodes seemed exaggerated. 
The series covers grueling stories of men deserting their post due to being bullied by their seniors. The newcomers in the military are seen enduring harrowing acts simply because their seniors feel like entertaining themselves. The acts include variations of sexual assault, humiliation, and futile beating.
The juniors are thus left to feel despondent. The D.P. officers, however, are exempt from staying within the base since they have to travel through the country because of their methods of locating and then arresting deserters, who feel miserably desperate enough to flee. Deserter Cho Suk-Bong is gnawed at by his seniors to the point of intolerance.
Suk Bong becomes unhinged mentally and in his thirst for revenge he also transforms into a murderer. He eventually becomes the flagbearer of bullying gone wrong.
"D.P." explores masculinity from several angles, and the arrangement of the show keeps audiences engaged, given that they can handle gore. The few stories that make up the season are full-fledged and poignant. The settings are meticulously picked in view of the military base, while the rest of the 'real world' authentically displays the livelihood of the working class in South Korea.
The genre of the dark absurd realism is also surprisingly and adequately sprinkled with quirky and witty comedy. Kyo-hwa emanates necessary comedic skills as the humourous officer and Hae-In is superb as the brooding yet thoughtful officer everyone feels at ease with.
All in all, "D.P." is a must watch for fans of K-dramas, as it successfully sets itself apart from most shows.
The author is a freelance journalist. Email: nawarzareen@gmail.com.