'I have dedicated most of my life to music'
'I have dedicated most of my life to music'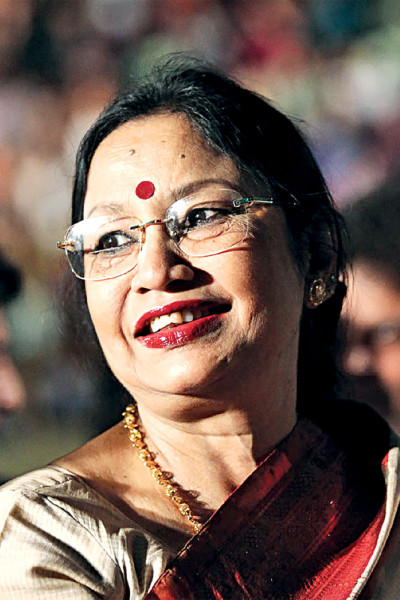 Eminent singer Ferdausi Rahman has been a household name for decades. She has voiced some of the greatest Bangladeshi songs. 
Her contribution to Bangladeshi playback singing is irrefutable. Her first playback song was in the film "Aseeya", back in the 1960s.
Being the daughter of legendary folk singer Abbasuddin Ahmed, she is also praised as the 'Shilpir Shilpi' for her proficiency in folk music, Nazrul Sangeet, Rabindra Sangeet and modern music, besides playback singing.
The acclaimed artiste has been honoured with numerous accolades, including the Ekushey Padak and Independence Award, among many others.
"I have dedicated most of my life to music," says the renowned singer. "As far as I remember, the film where I did my first playback song was never released."
"I did that song at Chhotro Studio of BG Press," says the artiste. "My song for 'Aseeya' was also done in the same studio. The film was quite popular in Bangladesh and Pakistan back then."
The musical icon shared some of her moments with her father, Abbasuddin Ahmed, as well.
Many years back, Abbasuddin Ahmed brought his family from Kolkata to Dhaka, near Islampur. Their house was in the Victoria Park area.
"I just started singing on the radio at that time," shares Ferdausi Rahman. "I still remember I got BDT 10 for the performance."
"Abba told me to save all my earnings from radio singing and I followed his advice," she says. "One day, he gave me BDT 10 and told me to spend it however I like. So, I took my brother and roamed around Islampur, but we didn't get anything."
"Abba was really surprised when we returned empty-handed, and gave him back the money," she adds.
During her college years, the artiste's family shifted to Paltan. "Rickshaws and horse carts were the main travelling means back then, buses were still not that prominent," she shares. "I used to go to college on a rickshaw every day. I had the same rickshaw puller drop me off and pick me up." The singer was a meritorious student in college.
"Travelling in rickshaws is one of my sweetest memories. But the sound and rhythm of a horse's feet running always invokes a different feeling in me," she adds.
"Abba once said we could buy a car, but he wanted us to experience life, observe the world and learn to work hard," she shares. "Abba's words from back then have been my life mantra."
'Oki Garial Bhai' is among my most favourite songs," says the artiste.  "It was Abba's song, and I have been singing it for years now. I feel as though I can smell the lands of Bangladesh in this song."
Television first came to Bangladesh in 1964. Ferdausi Rahman was the first artiste to sing on television, as it was inaugurated. She received BDT 200 for her performance.
The renowned artiste has also made a name for herself globally.
"I once travelled to China for an event with a team of 50 people," she says. "We started with a Bangla song, and performed two Chinese songs. The crowd showered us with claps, even the Chinese President congratulated us at the event," she added.
For Ferdausi Rahman, the appreciation she receives in her own country is way more valuable than any international accomplishments.
"I am infinitely grateful to the Almighty for all that I have achieved in my life," she concludes.