Behind the tranquil melodies of Jahid Nirob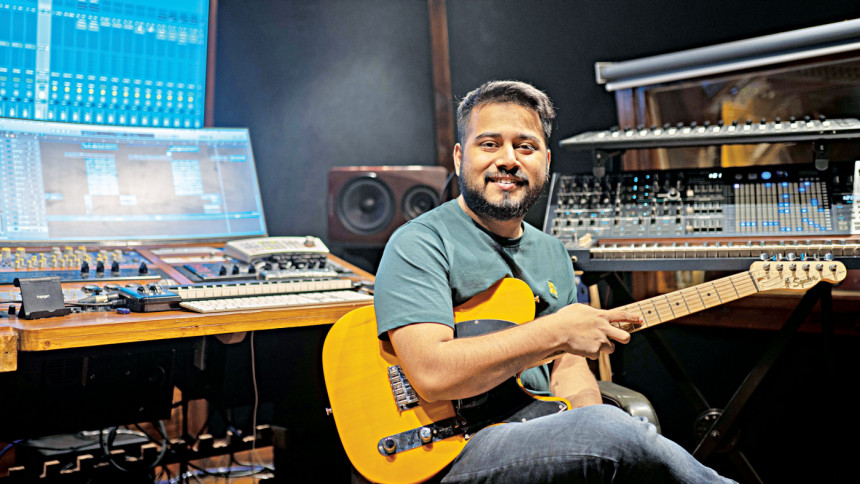 Playing crazy arpeggios on harmonium for the song "Duniya" alongside the celebrated band Chirkutt for the Amitabh Reza directorial masterpiece "Aynabaji" – this is how musician and composer Jahid Nirob first stole the limelight, capturing the attention of both music lovers and the National Award winning band. 
Joining the band in 2015, Nirob went on to soon work his way up in the television and OTT platforms with his background scores and TVC jingles and OVC, slowly making his presence on the silver screen with "Poddapuran".
While his work in Ashfaque Nipun's Hoichoi original series "Mohanagar" received praises, he also garnered appreciation for his recent Chorki original web film "Munshigiri", directed by Amitabh Reza.
In a candid chat with The Daily Star, Jahid Nirob shares his journey, talks about his upcoming projects, and more.
Born in Munshiganj to noted folk singer and music guru Anowar Hossain, Nirob was first introduced to music at home. "All I had to do was study and practice music back when I was a child," he shares. With time, Nirob started helping his father conduct his music lessons and soon grew to become popular among the locals.
To try out his luck, he participated in the reality show Nescafe Get Set Rock at the tender age of 17, securing the fourth position. Leaping further towards his dream Nirob soon migrated to Dhaka, bagging up projects as a freelance keyboard player.
He started working as a music producer for Butter Communications with Pavel Areen at the same time while accompanying Chirkutt for local and international programmes.
"I had started composing jingles at the same time, trying to explore different trends and genres," adds Nirob who has given background score to over 400 projects till date. "I don't cheat on my clients, but when it comes to fiction, I never cheat with myself."
Nirob then went on to work for television projects and earned much appreciation for his compositions, "A Mon Tomar Mone", "Prothom Upohar", and "Kar Laiga" and "Tomake Chai", both from the celebrated television project Close-Up Kache Ashar Golpo.
"Music is an expressive form of expression. We can feel and emote sorrows, anger, anguish, gloominess, or happiness through this medium and that's what I enjoy about it the most," says Nirob. "Music is never perfect but the beauty of music lies in your imperfections."
Being one of the most promising music directors in recent times, Nirob's music directorial debut "Poddapuran" was released recently. "I have always tried to be disciplined and practice as much as possible as there is no shortcut to perfection," he shares.
"My experience so far has been amazing as most of our artistes now are very meticulous and sincere. However, I wish we soon come up with more technical resources like sound tools, software and experienced record producers with good knowledge on voice articulation, dynamics, and aspirations as this will help nurture better music quality for our audience," he asserts.
The talented musician is currently spending busy days at his studio, working for his upcoming ventures "Noor" starring Arifin Shuvoo and Jannatul Ferdous Oishee, and "Poran", featuring Shariful Razz, Yash Rohan, and Bidya Sinha Mim, both directed by Raihan Rafi, and Rashid Polash's "Pritilata", alongside OTT projects. Being a strong believer in team effort, he also is grooming a team of six talented young musicians at Butter Communications.
"I never set expectations rather I just try to be honest with my music. I just wish to connect to my melodies while letting my work decide my success," concludes Jahid Nirob.