MOVIE REVIEW
'Shang-Chi and the Legend of the Ten Rings' shines with an emotional origin story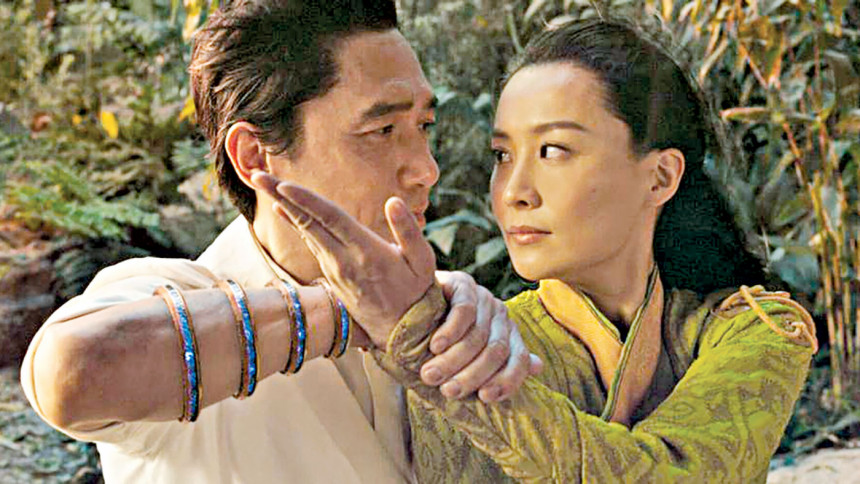 Marvel Studios' latest superhero offering, "Shang-Chi and the Legend of the Ten Rings", is the movie that brought me, masked up and sanitised, back to the theatres — and as a longtime Marvel fan, I am glad it did.
The film introduces us to Wenwu (Tony Leung Chiu-wai), Shang-Chi's father and the feared leader of the Ten Rings terrorist organisation. He is also the possessor of the ten rings of power, mysterious artifacts of unknown origin which give him superpowers and make him immortal.
But when he meets Ying Li (Fala Chen) in the mythical village Ta Lo, he puts his criminal days behind him, giving up the Rings to raise a family. Ying Li is rejected by her own village people for marrying the leader of the terrorist group, reformed or not.
Does Shang-Chi take over Wenwu's empire? Does Wenwu's past come back to punish him for his crimes? Such questions are answered throughout the rest of the film. At its heart, "Shang-Chi" is a story about a son's relationship with his father.
Director Destin Daniel Cretton is an American of Asian heritage. Hence, Marvel's first movie with an Asian lead character, is in safe hands. Cretton's "Just Mercy", a respectful cinematic telling of a real-life lawyer fighting for Black Americans wrongfully put on the death row, also testify in his favour.
For "Shang-Chi", he embellishes Marvel Cinematic Universe (MCU) canon with story and background from the comic books, creates new characters with writers Dave Callaham and Andrew Lanham, and marries it all with a lived experience of being an Asian American, without stooping to cultural appropriation.
Simu Liu plays the titular Shang-Chi. His best friend, Katy, is played by the charming Awkwafina. Shang-Chi feels like a fish out of water in the USA, and attempts to hide that with his charisma. Meanwhile, Katy has difficulty committing to a direction in her life, something that is a relatable struggle for many Asian Americans due to their own expectations as well as those of their parents and society.
The movie shines when Liu and Awkwafina are on screen together. Jokes are made, and we are reminded that this, in fact, is a Marvel movie happening post "Avengers: Endgame", when half the population was erased and brought back. For these characters, the worries that come with being children of immigrants are increased manifold, as super beings like Thanos are a real threat.
Throughout the film, it is made clear that Shang-Chi is not proud of his father, but he empathises with him.
It helps that Wenwu is a multi-layered villain with a deeply personal goal, which resonates with his entire family. Shang-Chi becomes his father's nemesis, without looking down upon his own heritage.
As a film that pays rich tributes to Chinese heritage at every turn, "Shang-Chi" is second only to "Black Panther" as an example of how even the most mainstream, commercial, hyped cinema does not need to pander, and can be used as an agent for progress, if done right.
Liu, overall, is the life and blood of this movie. Apart from delivering an impressive acting performance, he does some pulse-pounding stunt work, as his character is a skilled martial artist. The fight sequence in a moving bus with which the movie takes off, and another on a bamboo scaffolding, are ones to look out for.
That being said, the movie's final battle becomes another CGI fest with world-ending stakes, and its themes of identity and loyalty sometimes get lost in the bombastic action.
Fans of films like "My Neighbor Totoro" and "Spirited Away" will find plenty to enjoy in "Shang-Chi", for its rich mythology and fantastical settings. Overall, the movie is a delightfully refreshing experience — and I cannot wait for Shang-Chi to join the Avengers.
While I am glad I got to watch it on the big screen, if you consider going to the theatres, please be safe, and do not forget to wear a mask.